Our Mission
The Interactive Advertising Bureau (IAB) empowers the media and marketing industries to thrive in the digital economy.
Our Members are leaders in digital advertising
Getting Involved
Learn and lead. Sway the competitive balance in your direction. Advance your career and ensure the success of your business. Build lifelong connections. All at IAB
---
Feb 9-11
2020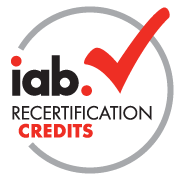 Conference - Palm Desert, CA
5G, AR, AI, AVOD, IOT, OTT, Voice...Technology is rewriting the language of marketing and media. New devices, systems, networks, regulations, and applications are dramatically altering the relationship between humans and the world around them. News, ...
$2695 - Member Pricing
$3895 - Non-Member Pricing
Complimentary Buy-side Brand Marketers & Agency Executives
Group Discounts and Special Rates Available for Lawyers and Engineers. Email
[email protected]
for details.
---
Training - New York, NY
There's a reason why it feels like just about everyone has a favorite podcast – 67% of the U.S population ages 12 and up are listening to podcasts, according to the IAB Podcast Revenue Report.
Audio has a long history with advertising t...
$399 - Non-Members
$299 - IAB Members
$199 - IAB Certification Holders
---
Town Hall - New York, NY
In the spirit of the holiday season, we have gifting on our minds, but not the kind you find in stores.  We're focused on the gift you give to help pay it forward and the invaluable benefit you receive in return. Our next Women's Visionaries event...
---
See all events
See all events
Learning & Development
We train media professionals and certify their knowledge for employers and business partners. Since 2012, 19,000 professionals at 1,500 companies have participated in our professional development programs.