Our Mission
The Interactive Advertising Bureau (IAB) empowers the media and marketing industries to thrive in the digital economy.
Our 650+ members are leaders in digital advertising
Getting Involved
Learn and lead. Sway the competitive balance in your direction. Advance your career and ensure the success of your business. Build lifelong connections. All at IAB.
---
Event - Remote
We'll reveal the latest digital ad revenue figures and trends in total and across formats in 2019 as well as insights into how consumers are engaging with media today, and how the ad supported digital industry has been impacted thus far by Coronavi...
---
Starts May 28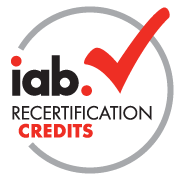 Training - Remote
Fear is one of the most natural human emotions, and in our unprecedented new reality, there is much to be concerned about. While fear can paralyze and imprison us, it can also motivate us and prepare us for what's ne...
---
Committee & Council - Remote
Join us on June 4 for the Audio Committee meeting! This is a remote-only meeting. Dial-in details will be emailed to you upon registration.
---
See all events
See all events
Learning & Development
We train media professionals and certify their knowledge for employers and business partners. Since 2012, 19,000 professionals at 1,500 companies have participated in our professional development programs.