Training Courses
In-depth crash courses designed to deepen you and your team's knowledge of digital media
In-Person Course
Audio 360
Learn about the full suite of audio opportunities available to help propel your business forward
Online & In-Person Course
Cross-Platform Video
Understand how to best leverage cross-platform video to plan effective multichannel campaigns and maximize ROI
Online & In-Person Course
Data 360
Addresses systems, techniques, and policies for managing consumer information in data-driven advertising campaigns
Online & In-Person Course
Digital Fundamentals
Introduces the digital media ecosystem and provides an in-depth look at how technology has changed marketing forever
Online Course
Introduction to Direct Brands
Understand how 21st century brands approach business and learn strategies to ensure you and your organization thrive in the direct brand economy
In-Person Course
Sales Leadership Training
Trains sales managers to become sales leaders in today's rapidly evolving sales ecosystem
In-Person Course
Privacy Essentials
Provides marketers and media professionals an in-depth introduction to EU and US privacy laws
Online & In-Person Course
Programmatic 360: Automation Decoded
Develop advanced fluency in programmatic technologies and learn to strategically assess investments in programmatic solutions
Curious about what training program might be right for you? Reach out to [email protected] to connect with a specialist on our Learning & Development team.
---
Feb 27
2020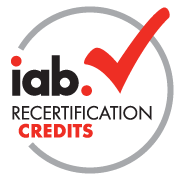 Training - New York, NY
How GDPR, CCPA and COPPA Govern Digital Advertising for Marketers and Media Professionals
EU and US regulators have set their crosshairs on the digital advertising industry. It is essential that any company within the industry understand th...
$599 - Non-Members
$499 - IAB Members
---
Training - New York, NY
This one-day crash course provides a comprehensive overview of the digital advertising ecosystem. We will teach you about how the industry is structured, and how digital media is bought, sold, used and measured. The interactive classr...
$399 - Non Members
$299 - IAB Members
---
View all upcoming classes
Corporate Training
Customized group trainings designed to meet your team's unique education needs or train your clients and partners
Interested in Corporate Training?