---
Apr 9
2020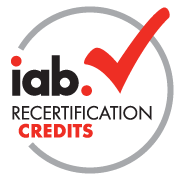 Committee & Council - Online
We invite IAB members to join us for this Joint Digital Video and Advanced TV Committee meeting. In addition to reviewing recent IAB updates and current video advertising hot topics, we will be joined by industry experts to do a deep dive into addres...
---
Event - Webinar
Keep up with the latest technologies for your interactive video ads and learn more about the VPAID (Video Player Ad Interface Definition) transition and improved interactivity with SIMID. The IAB TechLab's Digital Video Working Group has been worki...
---
Conference - Virtual
2020 NewFronts will be live streamed. Check back soon for more information and an updated schedule. Read more about the changes here.
---
See all events
See all events