The IAB Digital Video Center of Excellence, a dedicated unit within IAB, is devoted to the advancement of the digital video medium in the global marketplace. Its board and members reflect a dynamic mix of top television brands, original digital video content producers, prominent print publishers, digital video technology leaders, and innovative start-ups spanning across the digital video programming, marketing, and distribution spectrum.
Together with its member companies and in cooperation with the IAB Tech Lab, the IAB Digital Video Center produces technical standards, research, and thought leadership critical to the field, while identifying emergent best practices in the fast growing arena of digital video. Working with the IAB Public Policy office, the Digital Video Center also advocates to legislators on behalf of the burgeoning medium.
Established in November 2014, the Digital Video Center is based at the IAB New York City headquarters, and membership is open to all IAB member companies.
For more information on how to get involved, please contact [email protected].
Mision
The IAB Digital Video Center simplifies the video supply chain and provides best practices and education for brands, agencies, and media companies to drive continued growth through the evolving convergence of television and digital video.
Key Themes:
Cross-platform measurement and attribution
Best practices in creative innovation and data-driven video
Publisher transformation via new revenue and sales models
Mainstreaming OTT and Advanced TV for direct brands
IAB Digital Video Center of Excellence helps drive the industry forward through the efforts of committees and councils. Comprised of some of the brightest minds in their space, these groups work together to develop solutions that improve the interactive advertising and marketing ecosystem. Visit the Committees and Councils page to learn more.
Board Members
---
Mar 20
2019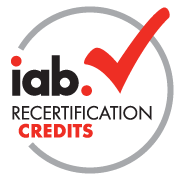 Committee & Council - 116 E 27th St. NY, NY 10016
The IAB's Video Center of Excellence invites you to attend our first Digital Video Committee Meeting of 2019 on Wednesday, March 20th from 3 to 5 pm ET. During this meeting, we will be discussing the committee's priorities and projects for the ye...
---
Conference - New York, NY
IAB Released the 2019 NewFronts Line-Up: The weeklong New York City marketplace will feature media powerhouses and pioneers showcasing in...
---
See all events
See all events