---
July 10 - July 11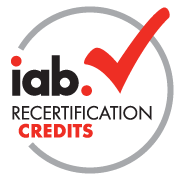 Conference - Santa Monica, CA
Video Leadership Summit (VLS) serves as IAB's annual agenda-setting event for senior leaders across the converging TV and digital video space. This year's event will bring together, in person over 100 invite-only participants across the marketer,...
---
Conference - New York City
Are Your Media Plans Ready for the Next Generation of the Web?



With a cookie-less world quickly approaching and privacy regulations challenging every impression, IAB Audience Connect is a must-attend conference for agenc...
Free for qualified buy-side brand marketers and agency professionals
$199 - Early Bird: Member: Virtual Ticket
$249 - Early Bird: Non-Member: Virtual Ticket
$1049 - Member: In-Person: Early Bird Ticket
$1299 - Non-Member: In-Person: Early Bird Ticket ---
See all events
See all events