BEST IN CLASS MOBILE MARKETING THAT PUTS THE CONSUMER FIRST The IAB Mobile Marketing Center of Excellence, an independently funded and staffed unit inside the IAB, is charged with empowering the media and marketing industries to thrive in a "mobile-always" world and in an increasingly "direct brand economy," where user experience and consumer relationships are at the heart of modern-day marketing and a significant driver of publisher transformation. Since its launch in 2010, the Mobile Center has helped accelerate the growth of the mobile ecosystem through standard setting, best practices, consumer research and public advocacy. IAB Mobile Center focuses on the intersection of creativity/innovation and technology, both of which enhance the consumer's mobile experience and journey, whether that be on a phone/tablet, in a car, in a store or on the street. With significant growth still to come for mobile ad spend, from IAB standard display to content marketing, AI, Voice, VR and AR to podcasts, digital out-of-home and game advertising and more, the IAB Mobile Center strives to help the industry – both buy- and sell-sides – make sense of advancements with education, standards and guidelines as applicable. Mobile is not about the device…it is about mobility. For more information on how to get involved, please contact [email protected].
Key Themes
Help Marketers and Publishers Make Mobile Work
Identifying mobile measurement and attribution needs
Reduce friction in the mobile ad supply chain
Evolve mobile creative standards with focus on user experience
Maintain a conducive Mobile Public Policy environment
IAB Mobile Marketing Center of Excellence helps drive the industry forward through the efforts of committees and councils. Comprised of some of the brightest minds in their space, these groups work together to develop solutions that improve the interactive advertising and marketing ecosystem. Visit the Committees and Councils page to learn more.
Board Membership
---
May 9
2019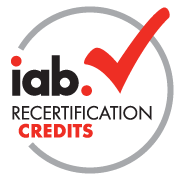 Committee & Council - IAB
We invite you to join the Q2 IAB Social Media/Native/Content Committee Meeting on Thursday, May 9th from 3:00 – 4:00 PM ET at the IAB Ad Lab in New York City (remote options available).

FOR IAB MEMBERS ONLY! ---
Conference - Convene Park Avenue, New York
The Experience & Measurement Innovation Day will showcase new ad experiences centered around the new ad portfolio guidelines. The day will consist of ad experiences showcase and sessions for guidance on implementing new ad portfolio specification... ---
See all events
See all events