Most people are familiar with the quote attributed to the Greek philosopher Heraclitus, "Change is the only constant in life." These words of wisdom have been illustrated throughout history, certainly in the world of media and now in the TV industry as it's responding to changes in consumer behavior. There are those that like to shout from the rooftops that "TV is dead" because consumers aren't watching it anymore.  However, that simply isn't true. TV isn't dead but it has changed. People are no longer solely sitting at home after dinner to watch the 7 o'clock news. They are now watching many different types of content on a variety of devices. Today's video consumer is empowered by seemingly endless choices and the opportunity to view content on their own terms, on-demand and across multiple devices.
Meanwhile, TV's delivery platforms are shifting from traditional linear broadcast to IP-delivered and dynamically served ads and content. To support this convergence, operators are getting better equipment and technology that helps facilitate the consumer ad experience. These advancements provide many exciting opportunities both to consumers and marketers. However, as it's a new space that's evolving quickly, the media industry still has questions about what these TV advancements are, how they work, and how marketers can best utilize these capabilities to achieve their goals.
Through our roles at our respective companies (Hulu and DISH/Sling TV), our participation with IAB, and serving as co-chairs of the Advanced TV Committee, we have been involved in many of these conversations that happen among publishers, agencies, and advertisers. We saw that there was an opportunity to provide further education to the industry as well as to provide guidance to marketers that are curious about the space. We are pleased to announce that the IAB Advanced TV Working Group has developed an Advanced TV Targeting Overview. This two-page guide aims to help define the advanced TV space, illustrate the targeting opportunities, as well as provide best practices for marketers that are interested in getting involved with audience-based targeting.
Advanced TV Overview
The term "advanced TV" is used to refer to television content that evolves beyond traditional, linear TV delivery models. This phrase is not new. It was first used at the MIT Media Lab in the early 1990s to explain why high definition TV was only an early step in the foreseeable enhancements to the medium (Source: Just the Facts 101, Head's Broadcasting in America: A Survey of Electronic Media, link)
Essentially, advanced television is the ability to serve one ad to one household as opposed to broadcasting the same ad to all households. It is an umbrella term that includes:
 OTT (Over the Top)/Connected TV: Content transported from a video provider to a connected device over the internet outside the closed networks of telecom and cable providers
Addressable TV: Offering the ability to serve different ad content to different audience segments watching the same TV program on IPTV and set top boxes, based on specific audience targeting in either live, playback, or VOD mode.
As Will Felcon, Head of Product and Technology, at Premion (a division of TEGNA) put it, "I like to think of advanced TV as 'tra-digital.' It's somewhere in between traditional TV and digital as it's a true extension of broadcast with digital-like properties."
These new types of TV provide benefits to consumers by allowing them to time shift their favorite shows and to consume content cross-platform on their TV, PC, smartphone, etc.
As a result, the number of addressable households (able to be reached on a one-to-one basis) is growing. There are 51 million OTT households in the U.S. and 56% of consumer's TVs are IP connected (Source: comScore and IAB). These connected households can today access OTT content on OTT Video Services such as Hulu and Sling TV as well as a variety of authenticated apps (Watch ABC and CNNgo) and unbundled apps (Crackle and XUMO) – providing consumers a wide array of choice. In addition, there are approximately 64 million addressable TV households across the largest MVPDs (multichannel video programming distributors) receiving ads and content on a one-to-one basis via advanced set top boxes. (see chart below)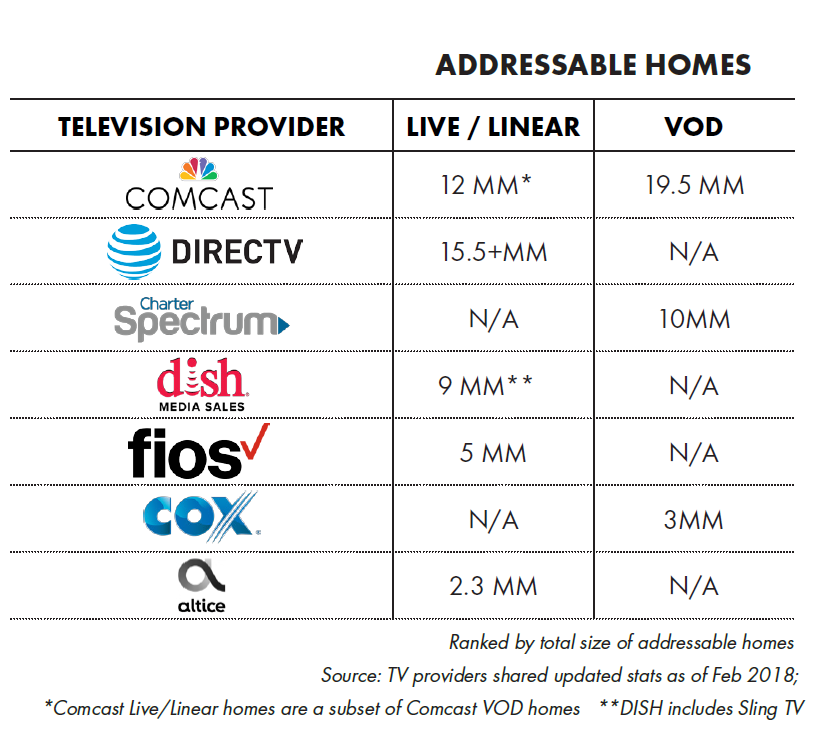 The advancements surrounding television don't only benefit consumers but they also open up new opportunity for marketers. Imagine this scenario: Tim is a 30-year-old male who loves travel. Barbara is his neighbor and she is a 20-year-old female who recently adopted a dog. They are both watching the same network TV program one Friday night. Advanced TV targeting allows Tim to be served a commercial from an airline that is advertising a hot deal on flights while Barbara is served a commercial highlighting a new line of natural dog food. Advanced TV targeting leads to higher relevancy for consumers and also increases the efficiency of a marketer's buy – ultimately eliminating waste. With addressable advertising, it's not a spray and pray approach. It's about finding a specific household for your needs as a marketer.
The addressability that advanced TV enables is allowing advertisers to get a one-to-one, holy grail type scenario, where they're able to speak directly to their target consumer and on a big screen, high quality device.
Due to these benefits, marketers' interest in this type of advertising is growing. Today, all different types of advertisers are using it and finding advantages with it. This trend is illustrated by growing revenue numbers. As of 2018, OTT ad spending is estimated to be $2.2 billion, up 40% versus 2017." (Source: Magna Global Advertising Forecast, Spring 2018).
IAB Advanced TV Targeting Primer
While marketers are increasingly spending money on advanced TV targeting, there are still a lot of questions regarding the space. As Manny Hernandez, VP Group Director, Programmatic at DigitasLBi, described, "Advertisers are trying to understand how close the advanced TV space is to replicating our audience-buying strategies in the rest of the digital ecosystem? Basic questions include, what are the data targeting capabilities and the impact on scale, how should we choose to access the inventory sources, how are we defining success in the space?"
This Advanced TV Targeting Overview aims to help address those questions and provide additional clarity to the space. The first page is focused specifically on OTT/Connected TV. It goes into what OTT/connected TV is, illustrates the platforms on which consumers can access OTT content, and details what apps/services they may be watching on those platforms. Lastly, and most importantly, it dives into how targeting works on OTT/Connected TV and outlines best practices for advertisers. The second page focuses specifically on Addressable TV and follows a similar format – detailing how addressable TV works, what providers offer addressable TV inventory, and best practices for advertisers. We are excited to have this document out in the marketplace as a resource for both buyers and sellers.
Conclusion
This Advanced TV Targeting Primer is just the first of the Advanced TV Committee's efforts to help move the space forward. As we look to the next three to five years, the convergence of digital and traditional TV will no doubt continue to evolve. While it's hard to say exactly what will happen in the next few years, we share some of our predictions and hopes for the advanced TV industry below.
"The advanced TV industry needs to have the same level of governance that both digital display and digital video have. It won't be enough to just copy and paste everything from the digital display and video side to the advanced TV industry." – Will Felcon, Head of Product and Technology, TEGNA/Premion
"Lack of standards is going to become a problem for anyone who has scale in OTT. I think that it is a golden opportunity for us to put a megaphone to tech specs. Every opportunity I get to talk about OTT standards, I want to talk about OTT standards." – Doug Fleming, Head of AdvancedTV, Hulu
"I'd like to see some type of ID which allows all of the players to connect and bring a more unified view of the consumer so that we can better replicate our digital strategies in this space." – Manny Hernandez, VP Group Director, Programmatic, DigitasLBi
"Cross-platform targeting on mobile, desktop, smart TVs, gaming devices, and so on is the next step for advanced TV advertisers. This will grow quickly as brands use measurement to gain insights on where their ads are working." – Adam Lowy, Director, Advanced TV & Digital, DISH & Sling TV
The IAB Video Center of Excellence Advanced TV Committee along with the IAB Tech Lab Working Group will continue to focus on these and other issues surrounding addressability and targeting. If you are an IAB member and would like to be involved in these ongoing discussions, please email [email protected]
Guide to Digital Video Advertising: The New TV