IAB Digital Ad Operations Certification Exam Prep, 4-Part, Live and Recorded Webinar Class – 7.23.18 – 7.26.18
---
Online Sessions
·
07.23.18 - 07.26.18
12:00 pm EST - 1:30 pm EST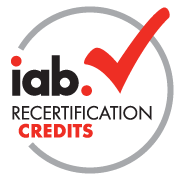 Session 1: Monday, July 23rd (12-1:30 pm ET)
Exam introduction, Planning & Executing Campaigns, Inventory Management
Session 2: Tuesday, July 24th (12-1:30 pm ET)
Inventory Management (cont.), Managing Live Campaigns
Session 3: Wednesday, July 25th (12-1:30 pm ET)
Managing Live Campaigns (cont.), and Managing Incidents, Ad Products, and Emerging Technologies
Session 4: Thursday, July 26th (12-1:30 pm ET)
Ad Technology, Managing Client and Partner Relationships
Doug Wintz
Founder of DMW MediaWorks; IAB Professional Development Faculty
Doug Wintz is a digital media veteran who, starting in 1988, sold and developed online applications for automotive clients like Toyota, Ford and Honda. After holding management positions with Softbank, Uproar and Lycos, Doug founded DMW MediaWorks, a consultancy focused on digital ad operations and technology. For the last decade, Doug has been focused on helping emerging companies build digital ad ops divisions, while helping established companies improve them. This includes over 100 publishing and advertising clients, from The New York Times, to Scripps, to Viacom. This course content was developed through a collaboration of Doug plus a team of industry ad ops experts and IAB staff.
Note: Cost of IAB Certification Exam application is NOT included in a-la-carte Prep Class price
Contact
Please contact us for any further questions and concerns.