IAB Digital Buying and Planning Certification Exam, 4-Part, Live and Recorded Webinar Prep Class – 6.05.17 – 6.08.17
---
Online
·
06.05.17 - 06.08.17
12:00 pm EST - 1:30 pm EST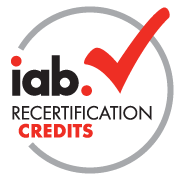 Webinars: 12pm-1:30 pm ET, June 5-8
Webinar 1: June 5
Webinar 2: June 6
Webinar 3: June 7
Webinar 4: June 8
Webinar log-in information will be emailed within 2 business days of the session start date.
Jaimisa Gourley
Training Consultant, IAB Faculty
Jaimisa Gourley brings over 10 years of experience in the media industry to her work as an educator on behalf of IAB. Jaimisa spent the majority of her career within the ZenithOptimdia family, in media planning, buying and strategy roles spanning traditional and digital media across a variety of client sectors including: telecom, gaming, retail, travel and QSR. Jaimisa also has experience on the publisher side of the business through her work at AOL, helping to provide her a well-rounded POV on industry objectives and challenges.