Programmatic 360: Automation Decoded 9/26- San Francisco
---
San Francisco, CA
·
09.26.17
8:30 am PST - 4:30 pm PST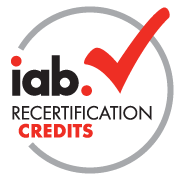 8:30 am - 9:00 am
Arrivals and Breakfast
Breakfast, lunch and beverages will be provided
9:00 am - 9:30 am
Introduction: Evolution of Programmatic Advertising
Topics include: History of Programmatic, Ad Servers, Ad Networks, SSPs, DSPs, Exchanges, Trading Desks, DMPs, Benefits for Buyers and Sellers, Programmatic as Cross-Channel Solution
9:30 am - 11:15 am
Technologies and Transaction Types
Topics include: Anatomy of an RTB Ad Call, Intro to IAB OpenRTB and OpenDirect API Specifications, Open Auction, First Price / Second Price, Private Marketplaces, Preferred Deals and Deal ID, Programmatic Direct, Understanding the Publisher Waterfall, Price Floors, Header Bidding, Audience Extension
12:15 pm - 1:00 pm
LUNCH
Breakfast, lunch and beverages will be provided
1:00 pm - 2:45 pm
Automation, Campaign Process and Measurement Strategy
Topics include: Programmatic as Automation Software, Data Exchange, 1st, 2nd, and 3rd party data sources; Probabilistic & Deterministic Data Methods, Look-a-like Modeling, Planning & Forecasting Techniques, Deal Discovery, Dynamic Creative Personalization,  Optimization Best Practices, Reporting on user behavior cross-platform and attribution strategy
3:45 pm - 4:30 pm
The Future is Automated
Topics include: Evolving standards for programmatic transactions, implications of header bidding on core buying and selling processes, IAB perspective on how programmatic will be redefined in 2017
Chris Kane started Jounce Media in 2015 to bring a unique combination of deep ad tech expertise and platform independence to programmatic buyers and sellers. Jounce Media partners with advertisers, publishers, and ad tech providers to customize off-the-shelf technology systems to solve specific marketing problems.
Chris was previously Chief of Staff to the CEO and CFO at AOL, where he was responsible for all day-to-day operations of the management team. Prior to AOL, Chris managed a portfolio of enterprise accounts at Turn, a leading demand-side platform and data management platform. He started his career as a management consultant at Oliver Wyman, where he focused on the converging media and technology sectors.
Gabriel DeWitt
Vice President, Product & Technical Operations
Gabriel joined Index Exchange in 2016 as VP of Technical Operations. As manager of Index's Solutions Architecture team, he ensures the right Index products are successfully integrated onto publisher's properties and oversees the strategic relationships between Index and other SSPs/Exchanges.
With eight years of digital advertising and 24 years of internet technology experience, he's focused on revenue generation and growth for a range of software engineering, product management and operations divisions. Gabriel has built, managed, and led successful teams by developing hiring practices, implementing development and build processes, innovating on strategic and product direction, and focusing on people management.
Gabriel is an established speaker and thought leader within the digital advertising space and resides in San Francisco with his wife and daughter.
Blake Simon
Senior Director, Business Development
Blake Simon joined The Trade Desk (TTD), the largest global, independent demand side platform (DSP), in March of 2017. He heads up the Business Development Sales team in the Pacific Northwest, focused on driving new business relationships and growing existing partnerships across top Agencies and Brands in the region.
He has over 12 years of AdTech experience, with 6 years in programmatic. Most recently he was a Sales Director at Criteo (CRTO), and at the Rubicon Project (RUBI), where he led the Sales and Client Services team for the West Region. His entire career in AdTech has been in a client-facing capacity on the buyside, working with top marketers on how to most effectively evangelize their brand and drive the greatest return on investment amidst the ever-changing digital landscape.