Programmatic 360: Automation Decoded 12/13 – New York City
---
8:30 am EST - 4:30 pm EST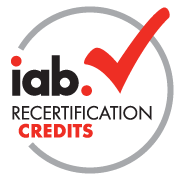 8:30 am - 9:00 am
Arrivals and Breakfast
Breakfast, lunch and beverages will be provided
9:00 am - 9:30 am
Introduction: Evolution of Programmatic Advertising
Topics include: History of Programmatic, Ad Servers, Ad Networks, SSPs, DSPs, Exchanges, Trading Desks, DMPs, Benefits for Buyers and Sellers, Programmatic as Cross-Channel Solution
9:30 am - 11:15 am
Technologies and Transaction Types
Topics include: Anatomy of an RTB Ad Call, Intro to IAB OpenRTB and OpenDirect API Specifications, Open Auction, First Price / Second Price, Private Marketplaces, Preferred Deals and Deal ID, Programmatic Direct, Understanding the Publisher Waterfall, Price Floors, Header Bidding, Audience Extension
12:15 pm - 1:00 pm
LUNCH
Breakfast, lunch and beverages will be provided
1:00 pm - 2:45 pm
Automation, Campaign Process and Measurement Strategy
Topics include: Programmatic as Automation Software, Data Exchange, 1st, 2nd, and 3rd party data sources; Probabilistic & Deterministic Data Methods, Look-a-like Modeling, Planning & Forecasting Techniques, Deal Discovery, Dynamic Creative Personalization,  Optimization Best Practices, Reporting on user behavior cross-platform and attribution strategy
3:45 pm - 4:30 pm
The Future is Automated
Topics include: Evolving standards for programmatic transactions, implications of header bidding on core buying and selling processes, IAB perspective on how programmatic will be redefined in 2017
Chris Kane started Jounce Media in 2015 to bring a unique combination of deep ad tech expertise and platform independence to programmatic buyers and sellers. Jounce Media partners with advertisers, publishers, and ad tech providers to customize off-the-shelf technology systems to solve specific marketing problems.
Chris was previously Chief of Staff to the CEO and CFO at AOL, where he was responsible for all day-to-day operations of the management team. Prior to AOL, Chris managed a portfolio of enterprise accounts at Turn, a leading demand-side platform and data management platform. He started his career as a management consultant at Oliver Wyman, where he focused on the converging media and technology sectors.
Michael Lamb
Director, Product Marketing
Michael Lamb is a 20 year technology veteran focusing on the music production industry and advertising and marketing industry. He has empowered thousands of salespeople with the tools to understand and successfully sell complex technology products. Currently, Michael leads product marketing for DMP, data and measurement products at Oath.
R. Trent Beckley
Strategic Partnerships, DoubleClick
Trent has spent the last 3 years at Google transforming the programmatic business's of some of the largest Broadcasters and Major Sports Leagues across AdX and DFP. Prior to his time at Google, Trent worked at the Rubicon Project where he ran buy-side agency business and at Federated Media where he oversaw all programmatic operations.