IAB Webinar: What Does AI Mean For Day-to-Day Marketing?
---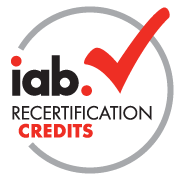 We'd like to invite you to our upcoming IAB webinar, "What does AI mean for Day-to-Day Marketing?" We get it – Artificial Intelligence is the "new shiny object," but what are some practical applications of AI that can lead to a competitive advantage in your Marketing? Join industry leaders from Google, AdTheorent and Xaxis to learn:
-What Artificial Intelligence means for the Marketing Industry.
-What are the areas that Marketers should be focused on?
-Thought Leadership on what's to come so you can be ready.
Date and Time: Thursday, December 14th at 1pm ET/10am PT.
Speakers: 

Matthew Groner
VP of Product Management
AdTheorant

Judith Hammerman
SVP, Data Commercialization & Programmatic Sales Solutions
Time Inc.

Sara Robertson
VP of Product Engineering
Xaxis