---
Event - Webinar
Keep up with the latest technologies for your interactive video ads and learn more about the VPAID (Video Player Ad Interface Definition) transition and improved interactivity with SIMID. The IAB TechLab's Digital Video Working Group has been worki...
---
May 20
2020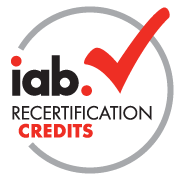 Training - New York, NY
This comprehensive half-day workshop provides an in-depth introduction to the digital advertising ecosystem. We will teach you about how the industry is structured and how digital media is bought and sold. We will talk about the different content typ...
$799 - Non Members
$599 - IAB Members
---
---
See all events
See all events