---
Nov 21
2019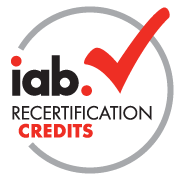 Training - New York, NY
How GDPR, CCPA and COPPA Govern Digital Advertising for Marketers and Media Professionals
EU and US regulators have set their crosshairs on the digital advertising industry. It is essential that any company within the industry understand th...
$499 - Non-Members
$399 - IAB Members
---
Committee & Council - New York, NY
The IAB Data Center of Excellence invites you to attend our 2019 Q4 All Committee Meeting on December 2, 2019 at 3PM EST at our NYC Office 116 East 27th Street, 8th Floor, IAB...
---
Town Hall - New York, NY
In the spirit of the holiday season, we have gifting on our minds, but not the kind you find in stores.  We're focused on the gift you give to help pay it forward and the invaluable benefit you receive in return. Our next Women's Visionaries Town ...
---
See all events
See all events