---
Conference - San Francisco, CA
Join IAB Tech Lab in San Francisco on September 19th for our Data Responsibility Innovation Day, where we will dive into the technical, economic, and political future of the data supply-chain. You'll be joined by other product, engineering and te...
$695 - Member
$895 - Non-Member ---
Conference - Convene Park Avenue, New York
Join IAB Tech Lab on a full day journey to understand the keys to consumer attention. In this event we will start with understanding the drivers of consumer attention and how consumers' media experience and measurement have evolved over time. We will... ---
Nov 13
2019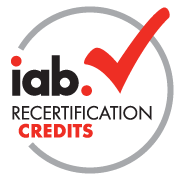 Training - San Francisco, CA
This comprehensive half-day workshop provides an in-depth introduction to the digital advertising ecosystem. We will teach you about how the industry is structured, and how digital media is bought and sold. We will talk about the different content ty...
$799 - Non Members
$499 - IAB Members ---
See all events
See all events