---
Event - Venue to Be Announced - New York
Join IAB Tech Lab in this fast paced event to learn about the cutting edge of measurement technology and better advertising experience. The event will cover updates on Open Measurement SDK initiative and how to transact based on OMSDK for different a...
$39 - Member
$49 - Non-member ---
Aug 21
2019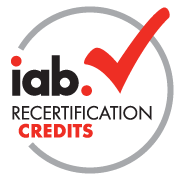 Digital Fundamentals - New York, NY
This one-day crash course provides a comprehensive overview of the digital advertising ecosystem. We will teach you about how the industry is structured, and how digital media is bought, sold, used and measured. The interactive classr...
$399 - Non Members
$299 - IAB Members ---
Event - IAB Ad Lab
Join IAB Tech Lab on May 7th in NYC for our Open Forum AdTech in Blockchain: It's Working to see how blockchain technology is being deployed in digital advertising. This is the latest edition in our series of events to educate the i...
$39 - Member
$49 - Non-Member ---
See all events
See all events