September 7, 2017
•
New York
A special one-day marketplace designed for advertisers and media buyers to preview the latest in innovative podcast programming from some of the biggest names in the digital audio arena. The event aims to educate and raise awareness around the power of podcasts as a valuable platform to reach consumers. Presenters will share their content offerings and opportunities with which advertisers can effectively align their brands.
PRESENTATIONS FROM
HIGHLIGHTS & INSIGHTS
Podcast Upfront 2017 Key Takeaways
At a time when every medium is talking about "storytelling," nowhere is that talent more evident than in podcasts.
This is the closest of media—actually like "the voices in your head."
This closeness delivers a special connection to the audience.
Right now is an excellent time to be involved in podcasts. It has high engagement and wonderful demographics. Podcasts are uncluttered ad space where messages are more believable.
An uncrowded space makes this a perfect time to own the medium for some brands.
iHeartRadio said, "Everything audio is hot right now" and WNYC pointed out that this is true "especially with some of those demographics that have abandoned other media."
There is a rapid growth of creative content across a number of podcast genres.
The longer and more personal podcast format allows for a deeper exploration of topics.
Products that advertise on podcasts have seen real benefits in brand affinity and sales.
Podcast Upfront: The "newest form of the oldest type of entertainment, storytelling."
Started just three years ago with an attendance of 85 people, the IAB Podcast Upfront 2017, held on September 7th, 20,17 at Time Inc.'s New York headquarters, was filled with entertainment, enthusiasm, and 281 attendees. With two-thirds of the audience being media buyers, a 41% increase in marketer and agency attendance over last year, podcasts are catching on with advertisers the same way they are catching on with listeners. Thirteen companies presented, and like the good storytellers of the podcast world, captivated the audience. The growth of this medium is evident and the excitement around it was palpable during the IAB Podcast Upfront.  Here's what happened:
Randall Rothenberg, President and CEO, IAB, welcomed the sold out crowd to the Time Inc. auditorium.
He started with the upbeat message, "We are happy to be growing the marketplace for the best storytelling on earth." Rothenberg pointed out that thousands of podcasts are listened to by millions of people. "Podcasting is a channel for people who didn't have access to tell their stories. It is a medium of provocation, a mainstream medium. We are surrounded by Podcasts and people are accessing them everywhere." added Rothenberg.
"Welcome to the Global HQ of Podcasting, New York City!" and with that, Kai Falkenberg, First Deputy Commissioner, NYC Mayor's Office of Media and Entertainment, opened the event. "There is much to love about podcasts—there are no gatekeepers between the storytellers and the listeners. The variety of content is staggering. Be prepared for the coming explosion of content and audience."
According to Falkenberg, 1.3 billion downloads happened just last year. "Podcasts are both diverse and intimate (the closest of media.) These are literally the voices in our head. And listeners pay attention."
She concluded with this statement. "Happy to be a part of the newest form of the oldest type of entertainment, storytelling."
As the Vice President and Head of Brand Marketing and Advertising, Prudential, Niharkika Shah  has a unique brand perspective on podcasts. She explained that while Prudential has and runs a full service internal agency, she still reaches out to external agencies for things she wants perspective on. Prudential are always tweaking their approach to media and messaging.
Prudential is purpose led and bred in a low engagement category. Shah believes in brands as publishers, telling stories. "The shortest distance between a brand and a customer is a story."
Prudential tested and learned about audio:
Started with Pandora (Day one campaign—following people on the first day of their retirement
Used influencers to promote 4.01k road races (Race to retirement)
Created a personalized podcast with Slate (Managing your money)
Produced Everyday Bravery podcast (Amazingly brave things done by ordinary people)
Shah also shared some moving examples of Everyday Bravery podcast.
"Prudential has aspirations to be a hero brand, an everyday brand,, inspired by stories. How we confront mortality and health takes bravery. We wanted to have a light touch with the branding."
When asked about measurement, she replied that success was "just doing it," but measured both reach and brand affinity. In a survey, more than 50% said they were inspired. Podcasting also fits well into the marketing mix. And she used multiple channels, amplifying this effort through social and events.
Shah's Advice:
Define the KPI (Key Performance Indicator)
Don't sit back—jump in
It is a marathon, not a :30
Stay true/authentic to the brand
The IAB Podcast Upfront 2017 host, Aminatou Sow , co-host of "Call Your Girlfriend," came on stage and kept the show lively between presentations.
Gina Garrubbo, President and CEO of National Public Media, stepped to the stage. Garrubbo said she was proud of being the number one publisher of podcasts. "There is real love and respect for the programming, which rubs off on advertisers. We've seen that 70% of listeners had a better opinion of sponsors. And our Smart Speaker Survey shows these folks listen to more audio on all devices."
Neal Carruth, General Manager of NPR Podcasts, added, "Podcasts are stories from everywhere you listen to anywhere." And he introduced what was new this year, including more short-form podcasts.
Kelly McEvers, Host of Embedded, featured a live presentation of her show, where they go deeper into the news. This season will focus on Donald Trump.
Carruth concluded with the succinct tagline: "Everyone. Everywhere."
Will Lee, Group Digital Director, Entertainment, Sports, and Style, Time Inc. explained, "There is no room for mediocre brands." Time Inc. delivers meaningful scale across a diverse range of platforms, a combination of audiences that allows for discoverability. Lee claimed 82% of podcast consumers are Time, Inc. consumers.
"Our research has said that one of every three listeners love episodic storytelling, and Time has been known for their incredible storytelling which delivers increased downloads."  Lee  shared a great example with the in-depth Chappaquidick story from East Coast Editor at People, Liz McNiel, who was interviewed by Harry Goldblatt, Editor in Chief of Entertainment Weekly.
Lee returned to the stage to discuss Time Inc.'s featured entertainment podcasts based around specific shows like Game Of Thrones, Twin Peaks, and Star Trek. The podcast Binge looks back at shows like Friday Night Lights and The Sopranos. Sports Podcasts featured Monday Morning Quarterback, NBA, and soccer.
Cory Smith, Digital Media & Sports Marketing, ESPN, introduced "Brand Building Backed By Research."
Smith explained ESPN podcasts include storytelling like 30 for 30, connecting with fans' passions by using credible personalities. And this content can be applied across all the ESPN properties: Radio, TV, and web, opening up 85 million impressions.
ESPN shared an interesting example of integration with Mini. Lee Nadler, Marketing Communications & Launch Manager, Mini USA.  "We wanted to have the right touch because we are an invited guest into this medium." Nadler said. "Mini can fit into their lives and they can fit into a Mini." Jody Avirgan, Host and Senior Producer of 30 for 30 Podcasts, brought up that it was important to "have the ad be a part of the content, because it is the first thing the audience hears."
"Podcasts are a personal medium." Nadler explained. "You feel like you are a part of the discussion. How can we not just interrupt but add to the experience? We tried to have a personal approach to a personal medium."
Jalen Rose, NBA Countdown Analyst, and David Jacoby, Commentator/Senior producer from the podcast Jalen and Jacoby shared this insight, "TV is the headline. Podcasts are the story. You make emotional connections and go deeper."
Kate Fagen and Kathryn Budig, from the podcast Free Cookies said the podcast format is wonderful for deep reporting because it "brings a new cadence and a chance to get to that third point, which you can't get to on TV because of time constraints."
Nate Silver , founder of 538, concluded with his thoughts on podcasts, "We try to make facts relatable to people—allow them to see our thought process—we are more transparent on the podcast. We treat the audience as peers. It gives us a place to test our ideas and publicly think through things."
Lex Friedman, Chief Revenue Officer, Midroll Media introduced some new shows: Now Hear This, Heaven's Gate, Raised by TV, Vox (afternoon news show), How to Be Unladylike, OffBook (improvised musicals), Conversations with People Who Hate Me, and more. Friedman presented a fascinating case study with Talenti. He pointed out sponsorship for My Favorite Murder is nearly sold out.
Friedman welcomed his client from the NFL who said they were excited to grow the podcast space. The NFL have four podcasts and are looking to grow these, and build more. He took the opportunity to announce a new Podcast: Game Theory and Money.
Alex Blumberg, CoFounder and CEO, Gimlet started with a new show, Habitat, about six people in a NASA experiment to see how they would cope with living in a confined area based on the need to stay on Mars for a year. "We are storytellers, developing new worlds/new voices, helping brands find their voice in audio."
Reggie Osse, Host of Mogul, announced that season 2 of the Hip Hop life podcast is coming in 2018. They are working on a VR campaign to present at the TriBeCa Film Festival and offering sponsorship opportunities.
PJ Vogt and Alex Glodman from Reply All, a podcast with content based on the internet, talked about making the internet less technical, plumbing the ocean of stories from the web, and how they impact your life.
Blumberg talked about Homecoming—fiction, a Peabody finalist. "We believe fiction is a part of the podcast world worth exploring." "Passion and authenticity allow podcasts to break through that is why you are seeing them made into movies and TV shows," he continued.
Anna Sullivan, VP Sales, Gimlet, talked about the mission of helping brands find their voice in audio. "We have revolutionized the host read and helped brands feel more human." She relayed a client remark about podcast sponsorship, "The most effective use of brand dollars ever." Gimlet are currently developing a suite of products for smart speakers like the example they showed, "Wake Up."
David Raphael , President of Public Media Marketing, asked, with 42 podcasts available, "Who are you looking for?"
Raphael explained PMM can build unique spots and sponsorship opportunities with the best example being MailChimp and Serial—the marketing win of the year. Serial 3 is coming. Raphael said he'd like to launch with a sole sponsor, delivering 100% share of voice.
There were 30 unique sponsors for This American Life. S-Town/Blue Apron were the example of content integration, answering, "How can we make something different?"
My Brother, My Brother, and Me host, Travis McElroy said about understanding the product: "we like to find the twist and we're really good at getting results."
John Hodgman and Jesse Thorn entertained with a best of recap from their podcast, Judge John Hodgman.
Greg Batusic, COO, PodcastOne talked about impressions on podcasts. "Impressions on podcasts are more valuable. There's less clutter. The message is more integrated."
Looking forward, Batusic sees new partnerships to bring big names to podcasts, introducing new shows focused on female programming at scale–podcasting has been predominantly male, and PodcastOne is adding a sports commentary network. All will be supported by a gamified mobile app delivering more content and rewards for interacting.
Batusic introduced Edison Research, Brand Lift Studies for Podcasts. They had hosts incentivize listeners to take a survey as a benchmark pretest and then they had a different group answer the same questions plus recall after the podcast. There was an amazing 62% unaided recall of the products featured.
He also mentioned that Forbes was looking to expand beyond their owned web properties with both Facebook and podcasts. They are going to integrate podcast content on their new site.
Lunch was served and then the IAB Podcast Upfront's afternoon host, Mike Pesca, host of the Gist podcast, kept the audience entertained with his quick wit.
Pierre Bouvard, Chief Insights Officer, WestwordOne presented a study they commissioned to be completed by Ad Perceptions. From 2015 to 2017, brands surveyed who advertise on a podcast were up almost 300%.
Bouvard provided some insights on frequent podcast consumers:
They are Tech Junkies-Three times the penetration of Smart Speakers
Speed Listening is a thing-17% report listening to a podcast sped up
Podcasting is under commercialized. Consumers thought there could be more ads and they could be pre-produced.
People would pay money to subscribe. They find the content valuable and would pay for an ad free platform.
Hernan Lopez, Founder and CEO, Wondery, explained the idea of immersive storytelling and immersive ads.
Lopez said Wondery's audience is complimentary to Public Media and then he asked: "Why should you care about sound?"
Sound makes you care.
Sound is growing with Smart Speakers.
85% of Facebook ads are watched on mute. How can you talk to your customers when they have you on mute?
A sound strategy is a podcast strategy. Immersive storytelling makes people care immensely.
Lopez handed out eyeshades and turned down the house lights so the audience could concentrate on two sample podcasts, Dirty Job and Tales of History.
Two podcast hosts, Mike Boudet of Sword and Scale and Davy Rothbart of Found, talked about the emotional connection they have with their audiences.
Then Lopez talked about Wondery's initiative around data and how to use third-party sources and partners to measure effectiveness beyond the promotional code.
Mark Glassberg, Vice President, Client Development, Metrix Lab, presented a Brand Lift Study using Test and Control methodology, survey-based, for 3 CPG brands between Feb and Aug 2017
"Some of the strongest numbers we've ever seen," Glassberg finished.
Brandon Monaghan, CEO, Panoply said he has seen great traction with Direct Response clients, but also with more mainstream brands also.
Andy Bowers, Chief Content Officer, said Panoply delivers content, reach, and technology.
Ryan Zack explained the new technology, Megaphone Targeted Marketplace. Advertisers can use Megaphone to push to platforms. They easily add markers where ads can be dynamically inserted and they can change these ads across demographics and geographic parameters. Podcast targeting can be more like display.
The crowd was captivated by Thinkfluencer—Dexter Guff host of the podcast, Dexter Guff is Smarter than You (And You Can Be Too).
Conal Byrne, President, HowStuffWorks (HSW), described their network as the biggest for-profit platform with 1 billion downloads, tying together authenticity and curiosity. It is storytelling for the curious.
A $15 million investment from Raine has allowed for investment in new verticals and categories. More than one hundred hours of new programming each month. When compared to standard podcast listeners, HSW listeners skew female, with a higher income and younger.
Byrne postulated that their content is core to many of their listeners' day. He introduced the audience to some of HSW's most popular celebrities like Josh Clark, Bridget Todd and Emilie Aries of Stuff Mom Never Told You, Holly Frey and Tracy V Wilson from Stuff You Missed in History Class, and Part-Time Geniuses, Mangesh Hattikudur and Will Pearson.
Gayle Troberman, CMO, iHeartMedia, talked about where podcast meets broadcast.
"Everything sound is hot—especially with millennials. Radio is still the biggest medium in America," Troberman exclaimed. "Radio is bigger than Facebook." She added, "You can get broadcast scale by combining on the air and digital subscribers."
Troberman said that iHeart brings the biggest names in broadcasting; delivering reach, frequency, and scale.
iHeart originals are in production including new work with Disney.
Carter Brokaw, President, Digital and Audience Segment Revenue Strategy brought Bobby Bones to the stage with the statement, "over the last 50 years radio is the most resilient medium."
Bobby Bones, host of his self-named podcast, introduced his new network for Middle America combining lifestyle, music, and geekdom.
Mark McCrery, Founder and CEO of Podtrac/Authentic, talked about podcasts' real successes with brands: highest brand awareness, less clutter, increased likelihood to buy.
McCrery then said, "Authentic has the top three podcasts driving category growth. Podcasts in general are up 167%, and This American Life is up 575%. Authentic is growing the market with great content."
Ira Glass, Host and Executive Producer, This American Life and Editorial Advisor, Serial and S-Town, was a strong podcast proponent. He said: "Podcasts work because they are old fashioned storytelling. Characters and plot that draw you in. Plot twists. The creators at Authentic work hard to find the right material." But it isn't easy. For every 15 ideas pitched, the producers at Authentic research 5, and only produce 3.
"Listeners engage in podcasts like the engage in TV binging," Glass continued. "That is why S-Town put  up all their episodes at once. It was storytelling like a novel, like a character study."
In 2018 Glass said we can expect three new shows, Serial 3 and two undisclosed, but he is expecting similar engagement numbers as Serial.
"Agencies are slow on the uptake. This is the next thing. The numbers are huge. This space is so uncrowded. A brand can make a dent. The next two years will be the best years to own podcasts, then people will catch up. But you should jump on them now," added Glass.
Motley Fool Money and Market Foolery Host, Chris Hill, talked about how he handles host-read ads.  "We love to find out about the products and services before we advertise them." Then Hill called out his glasses, shirt, and razor as sponsors' goods, because he believes in supporting the people who support him.
For the final presentation WNYC brought out Dean Cappello, Chief Content Officer, WNYC; Hal Trencher, VP Sponsorship Sales, WNYC; and Manoush Zomorodi, Host of Note to Self. Trencher said WNYC is a dominant player by making great content for the most engaged audience, which means they share and listen more.
"Podcasts are a great way to reach many millennials. And WNYC is the second largest producer of podcasts," said Trencher. "This isn't new to us."
Half of all podcast listeners engage with at least one WNYC show. Trencher invited sponsors to tap into the passion of the WNYC audience, across platforms.
Cappello explained how WNYC was an alliance of journalists, storytellers, and creators.
Trencher pointed out that podcasts are a way to reach people who have disconnected from other media. They are younger, more social, and more engaged. They listen and subscribe. There is a deep relationship with the audience inspired by WNYC.
Cappello described the WNYC formula as:
Heart (Emotional Connection)+ Smart (Substance)+ Now (Relevant) He then introduced new content schedule for Radio Lab and new shows like Spooked, Nancy and kids podcasts.
Mike Pesca came back on-stage and thanked all the sponsors. The audience then rose, excited about the creativity and engagement of this emerging podcast medium and moved to a wonderful cocktail reception sponsored by Turner. There was a feeling that podcasting is a growing opportunity and an optimism of where the medium is headed.
SPEAKERS
Emilie Aries
Co-Host
Stuff Mom Never Told You
Emilie Aries, Co-Host, Stuff Mom Never Told You
Co-Host Emilie Aries is the Founder and CEO of Bossed Up, where she helps women break the cycle of burnout and craft sustainable career paths. You might find this political organizer turned award-winning women's leadership expert dishing out practical advice on her Forbes Leadership column or on the TED stage talking through the "The Power of No," when she's not hiking with her four-legged fur baby or killin' it on the beach volleyball court.
Jody Avirgan
Host and Senior Producer
30 for 30 Podcasts
Jody Avirgan, Host and Senior Producer, 30 for 30 Podcasts
Jody Avirgan is host and senior producer for 30 for 30 Podcasts from ESPN Films and ESPN Audio. He also developed FiveThirtyEight Podcasts, which launched during the 2016 presidential campaign. Prior to arriving at ESPN, he was a producer at WNYC radio, and has worked with shows such as On The Media, Marketplace, Freakonomics, and many more. On the side he hosts the comedy and storytelling series Ask Roulette.
Greg Batusic
Chief Operating Officer
PodcastOne
Greg Batusic, Chief Operating Officer, PodcastOne
Greg Batusic is an accomplished senior media and sales executive with diversified expertise in strategic initiatives across growing domestic and international markets, including business development, brand marketing, ROI, cutting-edge technology and talent development. A proven leader, Batusic currently serves as Chief Operations Officer of Courtside Entertainment, LLC and PodcastOne, the leader in advertiser-supported podcasts an expansive network of more than 200 podcasts and high profile personalities.
Previously, Batusic was Vice President of Sales, Americas, at Line 6, a manufacturer of digital modeling guitars, amplifiers and related electronic equipment, working closely with product developers and marketing to initiate powerful sales strategies and tactics. As Executive Vice President, Global Sales at Gibson Guitars, Batusic worked on international distribution and strategy. He also co-founded and served as promotional Manager for The Promotional Edge, a highly successful marketing company that developed high profile multi-media programs for the music and media industries, after spending 16 years at radio syndication-giant WestwoodOne, where Batusic worked in Sales leadership positions during the company's start, later serving as President of WestwoodOne Radio Networks and their Entertainment Division. Batusic got his start in broadcasting and entertainment as an Account Executive with Turner Broadcasting where he supported the launch of CNN's sales arm.
Alex Blumberg
Cofounder + CEO
Gimlet Media
Alex Blumberg, Cofounder + CEO, Gimlet Media
Alex is the CEO and cofounder of Gimlet Media. He is an award-winning radio journalist having won every major award in journalism including the Polk, the duPont-Columbia, and the Peabody. Prior to Gimlet, he was a producer for This American Life, the co-founder of Planet Money, and an executive producer on Showtime's This American Life TV series, for which he won three Emmys.
Bobby Bones
Host
The Bobby Bones Show
Bobby Bones, Host, The Bobby Bones Show
Born and raised in Arkansas, Bobby Bones began his radio career at Henderson State University's KSH 91.1 The Switch at the age of 17, where he graduated with a degree in Radio/TV. During that time, he also worked at KLAZ 105.9 in Hot Springs, Ark., as a part-time air talent. In 2002, Bones was hired by Q100/KQAR in Little Rock, Ark., and The Bobby Bones Night Show was born. The following year, he moved to Austin, Texas where he began hosting The Bobby Bones Show Monday through Friday from 5-10 a.m. CT on 96.7 KISS FM. Joined on-air by Lunchbox and Amy, they attracted listeners in droves, as well as top rankings in the market. For his work on the program, Bones was named "Austin Radio Personality of the Year" in 2009, 2010 and 2011, and Austin's Alliance of Women in Media honored the program with their "Radio Personality of the Year" award seven years in a row.
The Bobby Bones Show joined Premiere Networks' national lineup in 2011 and was nationally syndicated on CHR radio until February 2013 when the program transitioned to a Country format. Today, the program originates from WSIX in Nashville and can be heard on more than 100 Country radio stations nationwide by millions of listeners. In 2014 and 2016, the program was honored with the Academy of Country Music Award in the "National On-air Personality of the Year" category. Bones was also voted "Best Radio DJ" by readers of The Tennessean in 2013, 2014 and 2015, and he made Nashville Lifestyles' "25 Most Beautiful People" list in 2013. He will be the youngest personality to be elected to the National Radio Hall of Fame in November 2017.
In addition to his weekday program, Bones added a weekend Country countdown show to his resume. Country Top 30 with Bobby Bones, a four-hour music program, airs nationwide on approximately 130 affiliates and features hosts Bones, Lunchbox and Amy as they showcase the top Country songs and go beyond the music to share conversations with the artists.
Bones is also half of The Raging Idiots, a comedy band with his radio producer Eddie that plays shows all over the U.S., and has raised millions of dollars to benefit various charitable causes. The duo has performed with Jason Aldean, Dierks Bentley, Florida Georgia Line, Brad Paisley and Toby Keith. Signed to Black River Entertainment in 2015, the band's first full-length album, The Critics Give It 5 Stars, debuted at No. One on the Comedy Albums Chart and landed in the Top 5 of Billboard's Country Album Chart. The group's superstar friends Kelsea Ballerini, Lindsay Ell, Charles Kelley, Brad Paisley, Carrie Underwood and more are featured on the album that takes satirical and deliberate cues from today's popular music. The band also released The Raging Kidiots: Kiddy Up! in 2016, which debuted as the top downloaded children's album and was born from the success of the No. One EP, The Raging Idiots Presents – The Raging Kidiots.
In May 2016, HarperCollins released Bare Bones: I'm Not Lonely If You're Reading This Book, a touching, funny, heart-wrenching, and triumphant memoir. The book takes fans on an
authentic, raw and hilarious tour of his journey from growing up in Mountain Pine, Arkansas to
becoming one of the leading Country radio personalities in the U.S. It spent four weeks on the New York Times Bestsellers List and claimed the No. One spot on multiple lists including USA Today and Wall Street Journal.
With no signs of slowing down, Bones takes his Funny & Alone Stand Up Comedy Tour nationwide in 2017, and has already sold out more than 15 venues. A passion project, the tour follows a handful of dates in 2016 that allowed Bones to express his quick-witted, pop-culture stacked brand of comedy. With an innate ability for being at the forefront of breaking new artists, and recently honored by ASCAP with the "Partners In Music" Award, Bones is taking special guests Carly Pearce and Nikita Karmen along for the second leg of the tour. For more information visit: www.BobbyBonesComedy.com.
Bobby Bones has been dubbed "the most powerful man in country music" by Forbes magazine, and he puts that star power to good use by supporting numerous charitable initiatives. He was elected to the Board of Directors for Musicians On Call in 2016, and has helped raise more than $6 million for various charities including St Jude's Children's Hospital®.
Bones has appeared in both movies and on television, including Bandslam with Vanessa Hudgens, the TODAY show, The Talk on CBS, Fox & Friends, CNN, Live! with Kelly Ripa as a guest host, and Headline News and FOX Business' Kennedy as a recurring guest.
Outside the studio, Bobby spends a lot of time with his dog, Dusty, and is very active on social media, constantly engaging and interacting with listeners via Twitter and Facebook. He also enjoys exercising, reading, shopping and going to sporting events. His favorite artists include John Mayer, Darius Rucker, Ben Kweller, Zac Brown Band and Ben Folds Five.
Mike  Boudet
Host
Sword and Scale
Mike  Boudet, Host, Sword and Scale
Mike Boudet is the host of Sword and Scale who has been active in the world of podcasting since 2007. His background in audio engineering brings a high level of quality to the show, where he combines ambient sounds, music and foley effects to tell an immersive and visceral story.
Andy Bowers
Chief Content Officer
Panoply Media
Andy Bowers, Chief Content Officer, Panoply Media
Andy Bowers is the Chief Content Officer and Co-Founder of Panoply Media, and the creator in 2005 of Slate's podcasting network, one of the first professional networks in the medium. He has overseen the creation and production of dozens of original podcasts, including Revisionist History with Malcolm Gladwell and The Message, one of podcasting's first original dramas.
As an NPR correspondent from 1991-2003, Bowers reported on state, national and global affairs. He served as NPR's London Bureau Chief and Moscow Bureau Chief, a White House correspondent, and a California-based national correspondent. He's covered numerous presidential campaigns, the wars in Bosnia, Kosovo, and Chechnya, and issues affecting California and the West. In 2003 he began producing the audio programs for Slate in conjunction with NPR. Bowers is a graduate of Yale University, and lives in New York.
Carter Brokaw
President, Digital & Audience Segment Revenue Strategy
iHeartMedia, Inc.
Carter Brokaw, President, Digital & Audience Segment Revenue Strategy, iHeartMedia, Inc.
Carter Brokaw oversees iHeartMedia's digital sales efforts, driving digital revenue through new and existing sales channels, as well as developing new digital revenue strategies. Carter also supports local digital selling and collaborates with iHeartMedia's marketing, technology, field sales, revenue management and national integrated sales groups. He also works closely with operations to take to market iHeartMedia's programmatic, real-time ad buying platform launched in early 2015. Before joining iHeartMedia, Carter held several positions as the Executive Vice President, Commercial at The Guardian News and Media US, the Chief Revenue Officer at Slacker Radio, the Chief Revenue Officer at Meebo, and as the Vice President of Digital Media at Warner Music Group.Carter's career in digital kicked off at CNET Networks, where he spent over 10 years, most recently as Vice President of Global Sales.
Kathryn Budig
Yoga Teacher, Author, and CoHost
Free Cookies
Kathryn Budig, Yoga Teacher, Author, and CoHost, Free Cookies
Kathryn Budig is an internationally celebrated yoga teacher and author known for her accessibility, humor, and ability to empower her students through her message, "aim true." The Kansas native graduated from the University of Virginia with a double degree in English and Drama before moving to Los Angeles, where she trained at Yogaworks under the tutelage of her mentors, Maty Ezraty and Chuck Miller.
With over a decade of experience in her field, Budig served as the yoga editor to Women's Health magazine for five years, contributed recipes and sat on the Yahoo Health Advisory Board, and regularly contributes to Yoga Journal, The New Potato, and MindBodyGreen. She was an athlete in Under Armour's "I WILL WHAT I WANT" campaign, the co-host of espnW's podcast, Free Cookies, teaches regular online classes on Yogaglo.com, and is the founder of her animal project, Poses for Paws. She is the creator of the Aim True Yoga DVD produced by Gaiam, author of The Women's Health Big Book of Yoga and Aim True.
Conal Byrne
President
iHeartPodcast Network
Conal Byrne, President, iHeartPodcast Network
Conal Byrne is the President of the iHeartPodcast Network for iHeartMedia. iHeartRadio carries more than 280,000 podcasts from its own originals to other major third-party podcast publishers and Conal oversees the iHeartPodcast Network of more than 750 original shows that amass more than 150 million downloads a month, making it the No. 1 commercial podcast publisher globally. He also oversees a team of over 50 podcast producers throughout Atlanta, New York and Los Angeles.
He led the launch of the HowStuffWorks (HSW) podcast program 10 years ago as CEO, making it the central focus of the company. Byrne joined iHeartMedia when the company acquired HSW in October 2018. He also previously served as Senior Vice President of Digital Media for Discovery Communications, where he ran digital for all of Discovery's U.S. networks and led the launch of Discovery VR.
Byrne graduated from Georgetown University Magna Cum Laude with a Bachelor of Arts in English. He also went on to graduate Summa Cum Laude from Columbia University in New York City where he received a Master's in Literature. In his free time, Byrne also writes and records music, supports up-and-coming indie film directors and tries to keep up with his four young kids.
Dean Cappello
Chief Content Officer and EVP
WNYC Studios
Dean Cappello, Chief Content Officer and EVP, WNYC Studios
Neal Carruth
General Manager
NPR Podcasts
Neal Carruth, General Manager, NPR Podcasts
Neal Carruth is NPR's general manager of podcasts, and is the first to hold this position. In the role, Carruth supports the teams working on NPR's podcasts, strengthens connections between NPR's podcast portfolio and NPR's newsroom and Member stations, and supports innovation and new program development.
Previously, Carruth was the Supervising Senior Editor of NPR's Business Desk and Managing Director of the network's New York Bureau. Carruth held previous positions as the Supervising Editor of NPR's Election Unit and the Supervising Senior Producer of NPR's All Things Considered, where he managed daily production of the newsmagazine.
In early 2006, Carruth worked as the producer at NPR's Baghdad Bureau, working with the Iraqi staff, as well as NPR correspondents. Carruth was part of the team that won the 2007 Alfred I. DuPont/Columbia University Silver Baton award for its coverage of Iraq.
Discover more about Neal Carruth on NPR.org.
Josh Clark
Co-Host
Stuff You Should Know
Josh Clark, Co-Host, Stuff You Should Know
Josh Clark is a senior writer at HowStuffWorks.com and is the co-host of the podcast Stuff You Should Know where he simplifies and reveals surprising facts about common ideas. Josh began his writing career when his third-grade teacher told him a short story he wrote was kind of good. From that moment on he has been writing. Josh attended the University of Georgia where he studied history and anthropology. After college, Josh pursued his profession as a journalist and worked as a writer and editor at weekly newspapers before landing his coveted gig at HowStuffWorks.com. Josh lives with his wife, Umi and the pair enjoys traveling, solving mysteries, having pizza parties and visiting museums (both renowned and obscure).
Lewis D'Vorkin
Chief Product Officer
Forbes Media
Lewis D'Vorkin, Chief Product Officer, Forbes Media
Lewis D'Vorkin is Forbes Media's Chief Product Officer, leading all editorial areas for the company and its brands. A seasoned journalist and entrepreneur, Mr. D'Vorkin founded True/Slant, an original content digital news network, which Forbes Media invested in and acquired in 2010. He was also the Executive Editor of Forbes magazine from 1996 to 2000.
He was Senior Vice President, Programming at AOL, where he oversaw News, Sports and Network Programming and helped launch TMZ.com. Previously, Mr. D'Vorkin was Page One Editor of The Wall Street Journal, a Senior Editor at Newsweek and an editor at The New York Times.
Kate Fagan
Writer, Co-Host Free Cookies
espnW
Kate Fagan, Writer, Co-Host Free Cookies, espnW
Kate Fagan joined ESPN in 2012 and has been a columnist and feature writer for espnW, whose stories have also appeared on ESPN.com and ESPN The Magazine. She is a regular panelist on ESPN's Around the Horn, contributes to The Sports Reporters, First Take and other shows.
Fagan has written several in-depth profiles that have generated media and social buzz, including an ESPN The Magazine story on U.S. Women's National Team star Abby Wambach, a breaking-news interview with Derrick Gordon, the first openly gay player in NCAA Division I men's basketball and a poignant look at Madison Holleran, a University of Pennsylvania track and field athlete who died by suicide.
Previously, Fagan spent three seasons covering the Philadelphia 76ers for the Philadelphia Inquirer. Prior to that, she was also a sports writer for The Glen Falls Post-Star and the sports editor of The Ellensburg Daily Record.
Fagan graduated from the University of Colorado at Boulder in 2004 with a Bachelor of Science in Communication and played on the women's basketball team from 1999-2004.
Holly Frey
Host of Stuff You Missed in History Class
Executive Producer, iHeartPodcast Network
Holly Frey, Host of Stuff You Missed in History Class , Executive Producer, iHeartPodcast Network
Holly Frey is an Executive Producer and a cohost of Stuff You Missed in History Class. Her true historical passion is fashion from all eras. She lives in Atlanta with her husband and a small herd of cats. When she's not obsessing over comma placement or talking about the past, she's sewing, running, watching television, visiting a Disney park, rescuing animals, going to the movies, traipsing around town in a ridiculous costume or obsessing over delicious food. Sometimes, she does several of these things at once.
Lex Friedman
Chief Revenue Officer
Midroll Media
Lex Friedman, Chief Revenue Officer, Midroll Media
Chief Revenue Officer Lex Friedman and his team have collectively sold $100M of podcast ads. Before becoming a co-founder of Midroll, Lex previously worked for a series of successful Internet companies. He co-founded a diet-tracking startup that was acquired by Demand Media in 2003. After Demand's IPO, Lex was a founding member at Midroll, which was acquired by EW Scripps in 2015.
John Gabrus
Host, Earwolf
John Gabrus, Host, Earwolf ,
Jon Gabrus is an actor, writer, and comedian. He can be seen on MTV2's Guy Code and performing weekly at the UCB theatre in LA with "Your F'd Up Family." He has also appeared on Comedy Bang! Bang! The Podcast as intern Gino Lambardo from Long Island.
Gina Garrubbo
President and CEO
National Public Media
Gina Garrubbo, President and CEO, National Public Media
Gina Garrubbo is President and CEO of National Public Media (NPM), the corporate sponsorship subsidiary of NPR owned in partnership with PBS and WGBH. NPM offers a wide range of innovative marketing opportunities for brands across local and national radio, podcasts, smart speakers, npr.org, apps, and has a production unit dedicated to producing custom audio for brands. As head of NPM, Garrubbo is committed to ensuring the continued growth of NPR and the public media system via funding from corporate sponsors. Garrubbo has spent more than 20 years growing marketing and sales teams, launching brands and building companies, with extensive experience in traditional and digital media. She was one of the builders of women.com, one of the first websites for women, and BlogHer, which brought independent voices to millions of readers. Garrubbo built advertising sales teams for Oxygen Media, Discovery Communications and in syndicated television. She sits on the Board of Directors of the Interactive Advertising Bureau (IAB), Tappp (an OTT video service) and Glen Highland Farm.
Ira Glass
Host and Creator
This American Life
Ira Glass, Host and Creator, This American Life
Ira Glass is the host and creator of the public radio program This American Life. The show is consistently one of the top three most downloaded podcasts anywhere, with 3.6 million downloads per episode. Another 2.2 million listeners hear the show each week on more than 500 public radio stations.
The team that creates This American Life also created Serial, the most listened-to podcast in the history of the medium, with over 19 million downloads for each episode of its first season. Glass is an editor on the show. Serial is widely credited for changing the face of podcasting. As The New Yorker put it: "Serial was the first show to induce advertisers to take podcasting seriously. The creative and economic accomplishment of Serial has spawned countless imitators, and many have shamelessly echoed its tropes."
The style of narrative journalism invented by This American Life and Serial – emotional story arcs, compelling characters, humor, surprising ideas, all delivered in a chatty conversational tone – have been copied by a generation of podcasts. The team's programs (including S-Town) have won the highest honors for broadcasting and journalistic excellence, including ten Peabody awards.
Mark Glassberg
Vice President, Client Development
MetrixLab
Mark Glassberg, Vice President, Client Development, MetrixLab
Mark Glassberg is a seasoned marketing and insight professional with 30+ years of experience in top tier CPG and market research firms. After working for Unilever and then Nestle in Brand Management Mark has held client leadership positions with IRI, IPOSOS and for the last 8 years with MetrixLab. His main areas of expertise include brand strategy, innovation, digital pre-testing, campaign measurement and shopper insight. Mark has a BA from Colgate University and MBA from Rutgers and is based in the NJ office of MetrixLab.
Henry Goldblatt
Editor-in-Chief
Entertainment Weekly
Henry Goldblatt, Editor-in-Chief, Entertainment Weekly
Alex Goldman
Co-Host
Reply All
Alex Goldman, Co-Host, Reply All
Alex Goldman is co-host of Reply All. His work has appeared on On the Media, 99% Invisible, Slate, and elsewhere.
Dexter Guff
Host
Dexter Guff is Smarter Than You (And You Can Be Too!)
Dexter Guff, Host, Dexter Guff is Smarter Than You (And You Can Be Too!)
Dexter Guff is a life strategist, thought-leader, global authority on entrepreneurship as well as 17 other credible things. Dexter has often referred to himself as "one of the world's most important thinkers" and voted himself a "top personal development mentor" even rewarding himself with "genius status". In this podcast, Dexter shares his proven strategies and tactics so you too can grow your business and better your relationships, monetize your pet, avoid your health, exaggerate your finances and generally explode your life. Dex has changed millions of lives, some for the better, and he wants to change your life too. Subscribe now to get your ears on Dexter's mouth, and as Dex says, "Begin living and thinking smarter not harder".
Part-Time Genius Mangesh Hattikudur & Will Pearson
Co-hosts
Part-Time Genius
Part-Time Genius Mangesh Hattikudur & Will Pearson, Co-hosts, Part-Time Genius
Will Pearson and Mangesh Hattikudur may only be part-time geniuses, but they're lifelong knowledge junkies. In college, a series of late-night conversations led them to co-found Mental Floss, an award-winning magazine and website. Along the way, they've written books, created board games, and put a lot of terrifically bad jokes on t-shirts. Part-Time Genius is their newest adventure, built on the premise that learning is much more fun when it doesn't feel like a chore.
Chris Hill
Host
Motley Fool
Chris Hill, Host, Motley Fool
Chris Hill started hosting "Motley Fool Money" in 2009 and "MarketFoolery" in 2011. He oversees The Motley Fool's audio programming including podcasts, radio, and smart speaker news updates. If the podcast industry were a stock, Chris would be buying as many shares as he could.
Jason Hoch
Head of New Initiatives
HowStuffWorks
Jason Hoch, Head of New Initiatives, HowStuffWorks
Jason Hoch is a digital innovator with over 20 years of senior leadership experience at both major media companies and tech start-ups. He is currently the Chief Content Officer at HowStuffWorks, where he is responsible for the creation and growth of all original media, including text, video and the brand's 14 unique podcasts. He previously worked as SVP, Digital Operations at WWE, and as VP, Product and Mobile for Discovery Communications.
John Hodgman
Writer, Comedian
Actor - FX's Married, HBO's Bored to Death, Cinemax's The Knick
John Hodgman, Writer, Comedian, Actor - FX's Married, HBO's Bored to Death, Cinemax's The Knick
John Hodgman is a writer, comedian, and actor. He is the author of three books of fake facts and invented trivia, all of them New York Times Bestsellers, and his writing has also appeared in The Paris Review, This American Life, The New Yorker, and Mad Magazine. His more recently recurring roles are in FX's MARRIED, HBO's BORED TO DEATH, Cinemax's THE KNICK.
David Jacoby
Commentator/Senior Producer
Co-host, Jalen & Jacoby
David Jacoby, Commentator/Senior Producer, Co-host, Jalen & Jacoby
David Jacoby is a commentator and senior producer who first joined ESPN in 1999. He is the co-host of Jalen & Jacoby, and has also served as a guest host on other ESPN programs, including SportsNation.
On September 28, 2015, ESPN Radio launched Jalen & Jacoby, a national weekday program (7 – 9 p.m.) co-hosted by NBA Countdown analyst, Jalen Rose. Jalen & Jacoby, which features Rose and Jacoby breaking down the latest news in sports and pop culture, began as a podcast of the same name and was promoted to a full show due to its popularity.
Previously, Jacoby was an executive producer at ESPN's Grantland where he created and produced all of Grantland's audio and video content, including primetime television show, Grantland Basketball Hour and executive produced Grantland's Emmy-nominated film unit, Grantland Features. Jacoby's work at Grantland garnered him three Emmy nominations, one National Magazine Award nomination, multiple Webby nominations, and two EPPY Award victories. He also conceived and produced the feature-length documentary Son of the Congo, a SXSW official selection.
While at Grantland, Jacoby blossomed into a popular writer and podcaster in his own right. Hosting three podcasts, Jalen and Jacoby (400,000 per episode), The Right Reasons (100,000 per episode) and Food News (100,000 per episode), he has become one of the most prominent podcasters on the planet.
Before joining Grantland, Jacoby was a development executive at ESPN. In 2004, he developed, piloted, and produced his first TV show, the sneaker-focused lifestyle show, It's The Shoes. He went on to develop, pilot, cast, and produce the hit ESPN studio show, SportsNation, while also developing a variety of other shows that are still on the air.
Jacoby graduated with honors with degrees in management and marketing from the Stern School of Business at New York University in 2000.
Pat Kelly
Partner
Kelly&Kelly
Pat Kelly, Partner, Kelly&Kelly
Having spent his entire career working in and around comedy, Pat has applied his knowledge of humor to both the entertainment business and to the corporate world. From making internal communications more playful, to creating viral branded content campaigns, Pat has infused humor into every corner of his client work. His Vancouver based creative agency Kelly&Kelly focuses on producing work that inspires meaningful connections using humor.
Melissa Kiesche
Vice President
Edison Research
Melissa Kiesche, Vice President, Edison Research
Melissa Kiesche is a Vice President at Edison Research, and has been with the company since 2003. She is a key senior member of the Edison election team and has been instrumental in both developing its procedures and managing its operation for over ten years — this includes research, interviewer recruitment and training and materials development. Melissa is a go-to for Edison's most logistically challenging projects and has been a lead on growing both the consumer exit polling and podcasting business. She is also one of Edison's Research Moms, a group of experienced researchers with a specialization in understanding today's moms.
Melissa is a graduate of Syracuse University with degrees in Television, Radio and Film from the Newhouse School of Public Communications and Policy Studies from the Maxwell School of Citizenship.
Lauren Lapkus
Host
With Special Guest Lauren Lapkus
Lauren Lapkus, Host, With Special Guest Lauren Lapkus
Will Lee
Group Digital Director, Entertainment, Sports, and Style
Time Inc.
Will Lee, Group Digital Director, Entertainment, Sports, and Style, Time Inc.
Will Lee is the Group Digital Director, Entertainment, Sports, and Style at Time Inc. He most recently served as digital editorial director for both People.com and EW.com. Lee previously worked for The Hollywood Reporter, overseeing its website as vice president of digital content.
Before that, Will helped guide content strategy as well as audience and editorial operations for Deadline, Hollywood Life, TV Line and other websites in the PMC portfolio. He previously served as New York Bureau Chief at TMZ. Will began his media career as the News & Notes editorial assistant at Entertainment Weekly, and has written for Sports Illustrated.
Hernan Lopez
Founder and CEO
Wondery
Hernan Lopez, Founder and CEO, Wondery
Hernan Lopez is Founder & CEO of Wondery, the largest independent podcast publisher. Wondery became the fastest network to join the Top 10 ranker by Podtrac, propelled by immersive hit shows like Dr. Death, Dirty John, American History Tellers, Business Wars, The Shrink Next Door and American Innovations. Prior to founding Wondery, Hernan was President & CEO of Fox International Channels, a $3bn division of Fox (now Disney). Hernan has been a speaker at Cannes Lions, CES, SXSW, Promax and Natpe, and his articles have been published by Ad Age and Fast Company. He holds an MBA from University Of Miami and lives in Los Angeles.
Mark McCrery
Founder and CEO
Authentic and Podtrac
Mark McCrery, Founder and CEO, Authentic and Podtrac
Mark McCrery is Founder and CEO of Authentic and Podtrac. At Authentic, Mark leads the team that represents This American Life, Serial, S-Town, This Week in Tech, Motley Fool and 300 other top podcasts, delivering measurable results for brand and direct response advertisers for 13 years. At Podtrac, Mark's team measures tens of thousands of top podcasts and produces the industry's only rankings of the top podcast publishers and podcasts by unique US monthly audience.
Griffin McElroy
Co-Host
My Brother, My Brother and Me
Griffin McElroy, Co-Host, My Brother, My Brother and Me
Griffin McElroy is both the Yahoo Answers curator, editor and youngest co-host of My Brother, My Brother and Me, which he's been doing for a grip. In his spare time — see: for his actual job — he's the Deputy News Editor for Polygon, a gaming site from Vox Media. He's also the co-host and editor for The Besties, Polygon's unnecessarily combative video game podcast. He lives in Austin, Texas, where you can often find him talking about how Austin used to be way cooler, even though he only moved here in 2011. His wonderful fiancee, Rachel, absolutely hates it when he does this.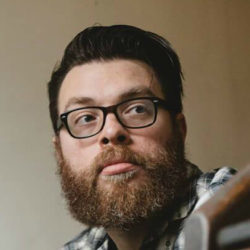 Travis McElroy
Co-Host
My Brother, My Brother and Me
Travis McElroy, Co-Host, My Brother, My Brother and Me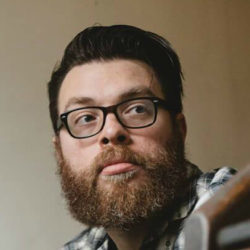 Travis is the middle one-third of the brotherly trio on My Brother, My Brother and Me. He resides in beautiful Cincinnati, OH where he works as a Master Carpenter for the Cincinnati Shakespeare Company. He's a proud alum of the University of Oklahoma and a native son of Huntington, WV. When not recording, he spends his time watching nature programs with his girlfriend and cat, and creating delicious bagel sandwiches.
Kelly McEvers
Host
Embedded
Kelly McEvers, Host, Embedded
Kelly McEvers, host of Embedded, is also co-host of All Things Considered, NPR's award-winning afternoon newsmagazine.
McEvers was previously a national correspondent based at NPR West. Prior to that, McEvers ran NPR's Beirut bureau, where she earned a George Foster Peabody award, an Alfred I. DuPont-Columbia award, a Gracie award, and an Overseas Press Club mention for her 2012 coverage of the Syrian conflict.
McEvers has spent her career of storytelling from the front lines. Embedded enables McEvers to delve deeper into some of the world's biggest stories, submersing listeners on a journey. As a longtime NPR correspondent and host, McEvers has covered stories from around the world. She has been tear-gassed in Bahrain; she has spent a night in a tent city with a Yemeni woman who would later share the Nobel Peace Prize; and she spent weeks inside Syria with anti-government rebels known as the Free Syrian Army. Embedded allows listeners to join McEvers on her adventures around the world.
Elizabeth McNeil
East Coast Editor
PEOPLE
Elizabeth McNeil, East Coast Editor, PEOPLE
Brendan Monaghan
CEO
Panoply Media
Brendan Monaghan, CEO, Panoply Media
Brendan Monaghan is Chief Executive Officer of Panoply Media, a premium podcasting company that produces original shows, curates digital audio content for listeners and operates Megaphone, an industry-leading technology platform for podcast creators and advertisers. Under Monaghan's leadership, Panoply is an industry leader in the podcast space through quality editorial content, key brand and advertising partnerships and technological innovations. Prior to Panoply, Brendan served as General Manager of the digital media property Slate, where he oversaw business development, strategy and business operations.
Lee Nadler
Marketing Communications & Launch Manager
MINI USA
Lee Nadler, Marketing Communications & Launch Manager, MINI USA
Lee Nadler is Marketing Communications & Launch Manager at MINI USA. He is responsible for managing multichannel, marketing programs.  He oversees MINI's marketing agencies and has overall responsibility for: advertising creative and media; MINIUSA.com on all platforms, digital/video marketing, social channels, gorilla/stunts and partnerships with ambassadors such as Tony Hawk and brands such as Burton. Lee was recently appointed Launch Manager for new products introduced in the US and he orchestrated MINI's #DefyLabels campaign, featured in the "Big Game."
During Nadler's 25-plus year career, prior to joining MINI, he founded a consulting practice, Sherpa Marketing, Inc., which invented ideas and created communications for clients such as: BMW, CNN, Gilt Groupe, eMusic, RIDEMAKERZ and Yahoo! Previously, Lee was on the original executive team as the first head of Marketing for DoubleClick. He also had key roles on the agency side, including launching Prodigy in 1989 at a WPP agency, launching Snapple at Kirshenbaum & Bond and later as President/CEO of Digital Pulp, which specialized in building brands and digital platforms for innovative businesses.
Lee is on the Board of Directors of the Advertising Club, has been inducted into the American Advertising Hall of Achievement, was recognized by Ad Age as one the 21 people to watch in the 21st century and has recently been named one of the 100 Marketing Leaders by Internationalist.
Nadler maintains a blog at www.TheSherpaPath.com which shares what he learned from the Sherpa people on an expedition to Mt Everest. You can connect with him via LinkedIn, Twitter or Instagram @LeeNadler.
Jack O'Brien
Creative Director and Head of Comedy
HowStuffWorks
Jack O'Brien, Creative Director and Head of Comedy, HowStuffWorks
Jack O'Brien was hired by HowStuffWorks in June 2017 to be the Creative Director and Head of Comedy, launching a new comedy podcast network. He previously founded Cracked.com in 2005 and served as its editor-in-chief. From 2004-2005, Jack worked as a Production Associate and Writer for ABC News. He received a bachelor's degree in English, Philosophy, and Government from Georgetown University in 2003.
Reggie Ossé
Host
Mogul
Reggie Ossé, Host, Mogul
Reggie Ossé, known as Combat Jack, first rose to prominence as founding partner of the small NYC law firm Ossé and Woods, where his clients included such legends as Jay-Z, Damon Dash, DMX, and Sean "Diddy" Combs. He worked briefly as an executive at MTV, then began blogging under the name Combat Jack, building a following around his riveting tales from the golden age of hip-hop. He was then managing editor of The Source Magazine, and now dedicates himself full-time to The Combat Jack Show and the Loud Speakers Podcast Network.
David Raphael
President
Public Media Marketing (PMM)
David Raphael, President, Public Media Marketing (PMM)
David Raphael is President of Public Media Marketing and leads a sponsorship team who offers advertising in the biggest programs on PBS, TV, the most successful Podcasts in the business and National Broadcasts on NPR Stations. PMM is committed to delivering outstanding results to their sponsors everyday.
In the past, David lead national sponsorship at both WBEZ (Chicago Public Radio / NPR) and WNET (PBS New York). David has a background in commercial television and radio enjoying a tenure at both Fox Television Syndication and CBS Radio.
David earned his degree from Northwestern University's School of Speech in Radio / TV / Film.
Denise Restauri
Host
Forbes' Mentoring Moments Podcast
Denise Restauri, Host, Forbes' Mentoring Moments Podcast
Denise Restauri is a storyteller, speaker, writer and connector. As the founder and CEO of GirlQuake, a Forbes Media contributor and host of the Mentoring Moments podcast (Forbes On PodcastOne network), Denise is amplifying the voices of females from multiple generations and democratizing mentoring. Denise is the author of Their Roaring Thirties: Brutally Honest Career Talk From Women Who Beat The Youth Trap. She was the executive producer of the inaugural Forbes Women's Summit. She has been at start-up, speed-up and stay #1 companies in both digital and traditional media. Denise serves on the boards of female-led organizations She's the First and The Empowerment Plan. She's a guest lecturer at Stanford University and an honorary professor at Glasgow Caledonian University. Denise is a Tribeca Disrupter Foundation Fellow, has been named to numerous people to watch lists and has appeared on NBC Today, CBS Early Show, ABC News, CNN International and NPR.
Jalen Rose
NBA Countdown Analyst
Co-host Jalen & Jacoby
Jalen Rose, NBA Countdown Analyst, Co-host Jalen & Jacoby
Jalen Rose joined ESPN in 2007 as regular contributor to the network's NBA coverage. In 2012, Rose was named a studio analyst for NBA Countdown — ABC and ESPN's pre-game show. He appears on Wednesday, Friday, Saturday, and Sunday editions of the program. Rose also provides NBA analysis for ESPN news and information programming, including SportsCenter and ESPN Radio.
On September 28, 2015, ESPN Radio launched Jalen & Jacoby, a national weekday program (7 – 9 p.m.) co-hosted by Rose and ESPN senior producer/commentator David Jacoby. Jalen & Jacoby, which features Rose and Jacoby breaking down the latest news in sports and pop culture, began as a podcast of the same name and was promoted to a full show due to its popularity.
Previously, Jose served as an analyst on men's college basketball game coverage and on College GameDay – the eight-week Saturday college basketball studio program originating from the site of ESPN's Saturday Primetime telecast. He has also made frequent appearances on First Take and contributed to the network's Olympics coverage and was a commentator on ESPN2's Numbers Never Lie (now known as His & Hers).
While still playing in the NBA, Rose began working for Fox Sports Net's Best Damn Sports Show Period, including his own lifestyle-oriented Jammin' With Jalen segment. Shortly after retiring in 2007, Rose joined ESPN and also created Three Tier Entertainment (TTE), a Los Angeles-based production and management company. TTE produces commercial projects with a worldwide mass appeal for film, television and the web, including The Fab Five, part of ESPN Films.
Rose attended the University of Michigan where the Wolverines reached two NCAA Title games, in 1992 and 1993, finishing as national runners up. The point guard was a part of Wolverines coach Steve Fisher's legendary 1991 recruiting class, dubbed the "Fab Five." He led the group in scoring his freshman year, averaging 19 points per game, and set the school freshman scoring record with 597 total points. Michigan is the only team in Final Four history to ever start five freshman.
In 2000, Rose established the Jalen Rose Foundation/Charitable Fund to create life-changing opportunities for underserved youth through the development of unique programs and the distribution of grants to qualified nonprofit organizations. More than $1.2 million in charitable donations personally donated by Rose have been distributed since the foundation's inception. In 2011, Rose's hometown of Detroit awarded him with a Spirit of Detroit Award in recognition of his exceptional achievement, outstanding leadership and dedication to improving the quality of life. Additionally, the Detroit News named him Michiganian of the Year in 2013.
In 2011, he established the Jalen Rose Leadership Academy (JRLA). The open enrollment public charter high school in Detroit gives students a leadership-focused education based upon real-world, project-based experiences within the career context of sports and entertainment. Rose also serves as the President of the Board of Directors.
Rose began his collegiate career at Michigan as a mass communications major, and ultimately earned a bachelor of science degree from the University of Maryland University College. He currently has a scholarship endowment in his name at Michigan.
Davy Rothbart
Host
FOUND
Davy Rothbart, Host, FOUND
Davy Rothbart is the creator of Found Magazine, a frequent contributor to public radio's This American Life, and author of the story collection The Lone Surfer of Montana, Kansas. He writes regularly for GQ and Grantland, and his work has appeared in The New Yorker, The New York Times, and The Believer. He's the founder of Washington II Washington, an annual hiking trip for inner-city kids, and is also the co-director of the documentary film Medora, to be released in 2013. He splits his time between Los Angeles, California and his hometown of Ann Arbor, Michigan.
Niharika Shah
Vice President and Head of Brand Marketing & Advertising
Prudential
Niharika Shah, Vice President and Head of Brand Marketing & Advertising, Prudential
Niharika Shah currently leads Prudential's full service in-house and external agency to create memorable brand experiences. A technology-savvy marketer, she is driven by the idea of unlocking value in media, the power of storytelling and insightful content. Her portfolio includes overseeing Prudential's media investment in the U.S. and International Markets, Creative and Strategy development, and Prudential's Sponsorship, Social Media and Content Marketing practices. In the past, Shah has led brand and digital marketing for retail, financial services and consumer packaged goods companies.
In addition to an engineering degree in computer science, Shah holds an executive MBA in marketing and entrepreneurship from The Rutgers School of Business.
Nate Silver
Statistician, Author
and Founder of FiveThirtyEight
Nate Silver, Statistician, Author, and Founder of FiveThirtyEight
Nate Silver is a leading statistician and best-selling author known for his unique brand of creativity, journalism and statistical analysis. He is the founder of the award-winning website FiveThirtyEight, which was acquired by ESPN in 2013. The site relaunched as an ESPN entity on March 17, 2014, and expanded its coverage to include topics such as sports, economics, culture, science and technology, among others. FiveThirtyEight continues to provide data-driven coverage of politics, including forecasts of upcoming elections.
Silver has established himself as today's leading statistician through his innovative analyses of political polling. He first gained national attention during the 2008 presidential election, when he correctly predicted the results of the presidential election in 49 of 50 states, along with all 35 U.S. Senate races. In 2012, FiveThirtyEight predicted the election outcome in all 50 states. FiveThirtyEight has made Nate the public face of statistical analysis and political forecasting.
His most recent book, The Signal and The Noise: Why So Many Predictions Fail – But Some Don't, is a New York Times bestseller. Before he came to politics, Nate established his credentials as an analyst of baseball statistics. He developed a widely acclaimed system called PECOTA (Player Empirical Comparison and Optimization Test Algorithm), which predicts player performance, career development, and seasonal winners and losers. He is a co-author of a series of books on baseball statistics, which include Mind Game, Baseball Between the Numbers, and It Ain't Over 'til It's Over. Nate has written for ESPN.com, Sports Illustrated, Slate, Baseball Prospectus, Newsweek, The New York Post, and The Los Angeles Times.
Silver has earned a series of accolades. Fast Company chose Nate as No. 1 on their list of the 100 Most Creative People in Business 2013. He was among TIME's 100 Most Influential People of 2009 and Rolling Stone's 100 Agents of Change. In 2012 and 2013, FiveThirtyEight won Webby Awards as the "Best Political Blog."
Cory Smith
Digital Media & Sports Marketing
ESPN
Cory Smith, Digital Media & Sports Marketing, ESPN
Cory Smith is the Director of Sports Marketing at ESPN, the world's leading sports entertainment company, features more than 50 assets – eight U.S. television networks, ESPN International, ESPN Radio, ESPN.com, ESPN The Magazine, and more. In his role, Cory is tasked with developing and executing sponsorships and strategy for Digital Audio advertisers. In his 14 years at ESPN, Cory worked on all aspects of the digital audio business including content, product and sales positions helping to launch some of the most listened to sports podcasts in the industry and creating world class ad solutions for advertisers.
Anna Sullivan
VP Sales
Gimlet
Anna Sullivan, VP Sales, Gimlet
Anna Sullivan is Gimlet's VP of Sales overseeing the sales, B2B marketing, development of new advertising products, and merchandising of GImlet's award-winning slate of programming. Before joining Gimlet, she worked in sales at Quartz and Bloomberg. Anna holds a B.A. from Miami University in Ohio and lives in Brooklyn, New York with her husband.
Jesse Thorn
Host and Producer
Bullseye and Jordan, Jesse, Go!, & co-host/producer of Judge John Hodgman
PM Host
Jesse Thorn, Host and Producer, Bullseye and Jordan, Jesse, Go!, & co-host/producer of Judge John Hodgman
PM Host
Jesse Thorn is the host and producer of Bullseye and Jordan, Jesse, Go!, and the co-host and producer of Judge John Hodgman. He's also the proprietor of MaximumFun.org.
Bullseye began in 2000, as The Sound of Young America in 2000, while Thorn was still a student at the University of California at Santa Cruz. In 2007, the show began to be distributed by Public Radio International, making Jesse the youngest national host in public radio history. The show became Bullseye in 2012, and in 2013 it began being distributed by NPR. The show currently airs on NPR stations around the country.
As owner of MaximumFun.org, Jesse oversees a network of more than two dozen podcasts, along with video and other content production. The company helped set the template for the modern podcast network, and continues to be a leader in independent, audience-supported media production. Fast Company magazine called Thorn "the most important person in entertainment you've never heard of."
In addition to his work at MaximumFun.org, Thorn hosts and helps produce Put This On, one of the country's most popular web series and blogs about men's style. He also hosted The Grid, a culture recommendation program on IFC, The Sound of Young America on Current TV and has appeared on IFC's Comedy Bang Bang among other television outlets.
A native of San Francisco's Mission District, Jesse lives in Los Angeles with his wife, podcaster and author Theresa Thorn, three children and two dogs.
Bridget Todd
Co-Host
Stuff Mom Never Told You
Bridget Todd, Co-Host, Stuff Mom Never Told You
Co-Host Bridget Todd is a writer, activist, and digital organizer who you might find writing for The Atlantic, setting fearless fashion trends with her Black Lives Matter hat at Donald Trump's inauguration, or fawning over Solange's live performance after speaking on the intersection of pop culture and politics at SXSW.
Hal Trencher
VP Sponsorship Sales
WNYC Studios
Hal Trencher, VP Sponsorship Sales, WNYC Studios
Hal Trencher has distinguished himself by accelerating sales growth in a rapidly developing media business. Hal has many years of media sales experience and has held leadership positions at VEVO, AOL, Yahoo, Sports Illustrated TV and CBS Television Network and he
attended the CBS School of Management.
At VEVO, Hal was the Senior Vice President of National Sales (CRO) and oversaw a team of 70. During his seven years at Yahoo Sports, his sales strategies resulted in unprecedented growth, increasing
from $2 million in sales revenue to over $100 million. At AOL oversaw the growth of the CPG business nationally.
With his passion, enthusiasm and commitment to fostering success through good leadership, team building, professional development and mentoring, Hal continues his success today as Senior VP of Sponsorship for WNYC Studios.
Gayle Troberman
Chief Marketing Officer
iHeartMedia, Inc.
Gayle Troberman, Chief Marketing Officer, iHeartMedia, Inc.
Gayle Troberman is the Executive Vice President and Chief Marketing Officer at iHeartMedia, Inc. In this newly created role, Troberman works with all of iHeartMedia, Inc.'s businesses to closely connect them with consumers, helping integrate the company's brands, products, and platforms even more deeply into consumers' daily lives. Prior, Troberman, a highly respected marketing industry veteran, served as Chief Marketing and Ideas Officer at IPG Mediabrands. Gayle spent 16 years at Microsoft as Chief Creative Officer where she was responsible for the company's portfolio of brands and global advertising campaign across consumer and B-to-B products including Windows, Office, Bing, and XBOX. She was also an early internet innovator, creating the industry's first branded entertainment division at MSN, where she developed many of the first online video series and pioneered the premise that with the Internet, brands, agencies and media companies could collaborate in entirely new ways, breaking down the barriers between marketers, creators, engineers, and consumers. Troberman joined Microsoft from Manning Selvage and Lee, where she served as Vice President, Consumer Marketing and focused on applying consumer public relations principles to a broad range of technology brands and products before they developed paid media and advertising strategies.
PJ Vogt
Co-host & Editorial Director
Reply All
PJ Vogt, Co-host & Editorial Director, Reply All
PJ is co-host & editorial director of Reply All. Previously, he and Alex Goldman created TLDR. They won a Third Coast Award for their work profiling America's preeminent poop songwriter.
Tracy V. Wilson
Co-Host
Stuff You Missed in History Class
Tracy V. Wilson, Co-Host, Stuff You Missed in History Class
Tracy V. Wilson has loved stories and science for as long as she can remember. She joined HowStuffWorks as a staff writer in 2005, and she spent her first few years at the site destroying gadgets and mining patents, papers and interviews to figure out what makes things tick. In 2007, she took on the role of hiring and training HowStuffWorks' new writers and editors. She became site director in 2010 and editorial director in 2014. Tracy cohosted the PopStuff pop culture podcast with Holly Frey; the pair now cohosts Stuff You Missed in History Class. Tracy's love of history started to grow in college, with four required humanities courses that gave her a more holistic way to approach the past and how it affects the present. Tracy spends her downtime much like she spends her time at work: reading, writing, tinkering and brooking only the most delightful nonsense.
Ryan Zack
Director of Advertising and Sales Operations
Panoply Media
Ryan Zack, Director of Advertising and Sales Operations, Panoply Media
Ryan Zack is the Director of Advertising and Sales Operations at Panoply Media, a premium podcast company that creates and monetizes digital audio content. He has the privilege of managing a team of 7 individuals across two departments, and recently was instrumental in creating the first-to-market podcast targeting solution, Megaphone Targeted Marketplace, which lets advertising partners target specific audiences through demographic and behavioral segmentation. Ryan has a long history in Advertising Operations and has led teams across the US, Mexico and Brazil at AOL, GoPro and Spotify.
Manoush Zomorodi
Host
Note to Self
Manoush Zomorodi, Host, Note to Self
Agenda
Hosts:
Morning
Aminatou Sow

Aminatou Sow is the co-host of "Call Your Girlfriend," a podcast for long distance besties everywhere and "On She Goes", a travel podcast for women of color. She is also the founder of Tech LadyMafia, a group that increases visibility and opportunities for women in Tech. She is a member of the Sundance Institute Director's Advisory Group and previously led Social Impact Marketing at Google. 
Afternoon
Mike Pesca

Mike Pesca is the host of daily Slate podcast The Gist. Previously, he was an NPR correspondent for over 10 years, most of which were spent covering sports. He has guest-hosted the public radio programs On the Media, Brian Lehrer Show, Leonard Lopate Show, Science Friday, Left, Right and Center, Bullseye, On Point, To the Point, All Things Considered, Talk of the Nation and Wait, Wait, Don't Tell Me, along with regularly appearing on CNN and MSNBC. He has won two Edward R. Murrow broadcasting awards.
8:00 am - 9:00 am
Registration & Networking Breakfast
9:40 am - 10:00 am
NPR: Everyone. Everywhere. We Have Their Ears.
10:05 am - 10:25 am
Time Inc.: Voices: Storytelling and 360 Solutions
10:30 am - 10:50 am
ESPN: Driving Actions that Build Brands
11:25 am - 11:45 am
Midroll Media: Incredible Shows, Incredible Ads
11:50 am - 12:10 pm
Gimlet: High Impact Programming that Delivers
12:15 pm - 12:35 pm
Public Media Marketing (PMM): Delivering Results with Custom Spots and Content
12:40 pm - 1:00 pm
PodcastOne: Blue-Chip Programming, Gold-Standard Results
2:00 pm - 2:05 pm
New Podcast Revenue Models
Sponsored By:
2:05 pm - 2:25 pm
Wondery: Is Your Brand On Mute?
2:30 pm - 2:50 pm
Panoply: Innovative Technology, Enticing Shows
2:55 pm - 3:15 pm
HowStuffWorks: Storytelling for the Curious
3:50 pm - 4:10 pm
iHeartRadio: Podcast Meet Broadcast
4:15 pm - 4:35 pm
Authentic: Podcast Icons & Brand Advertising Results
4:40 pm - 5:00 pm
WNYC Studios: Listen to be Heard.
5:10 pm - 7:00 pm
Sponsored By:
SPONSORS & PARTNERS
Presenting Sponsors
About Authentic

Authentic, a Podtrac Company, has 12+  years of podcast advertising experience and is the leading podcast rep firm working with more brands than any other podcast company. Authentic represents top podcasts including This American Life, Serial, S-Town, This Week in Tech, Motley Fool and hundreds of other premium shows.   Ads are delivered in the tone and voice of each show to their highly-engaged audiences. Visit Authentic at: www.authenticshows.com

About ESPN Audio

ESPN, the world's leading sports entertainment company, features more than 50 assets – eight U.S. television networks, ESPN International, ESPN Radio, ESPN.com, ESPN The Magazine, and more.  ESPN is 80 percent owned by ABC, Inc. (an indirect subsidiary of The Walt Disney Company) and 20 percent by Hearst.

About Gimlet

Gimlet Media is an award-winning narrative podcasting company that aims to help listeners better understand the world and each other. Gimlet was founded in 2014 and produces hit series like StartUp, Reply All, Homecoming, Crimetown and more. Based in Brooklyn, New York, Gimlet podcasts are listened to in nearly 190 countries worldwide. Follow us @GimletMedia.

About HowStuffWorks

Founded in 1998, HowStuffWorks is a leading publisher of informative video, podcast and editorial content. The parent company of 14 leading brands including Stuff You Should Know, Stuff You Missed in History Class, Stuff Mom Never Told You, and Part-Time Genius, HowStuffWorks' writers, editors, podcasters and video hosts share all the things they are most excited to learn about with highly-engaged fan-bases across multiple platforms, devices and distribution partners. With an expansive and award winning collection of audio podcasts and video series, HowStuffWorks reaches a network of nearly 30 million unique visitors a month, and is #3 in global podcast downloads.

About iHeartRadio

iHeartRadio, iHeartMedia's digital music, podcasting and live streaming radio service with 100+ million registered users, is dedicated to providing an all-in-one listening experience that helps users discover new podcasts alongside their favorite live radio stations, personalities and on-demand music. With iHeartRadio, listeners can enjoy their music and podcasts across 90+ device platforms including in-car, in-home, on wearables, across gaming consoles and more – making their favorite audio content available everywhere they are, on the devices they use most.

About Midroll Media

Midroll Media (midroll.com) is a leading podcast company. Midroll creates and monetizes podcasts, offering host-read ads on more than 300 shows, along with branded segments, episodes, and series. Founded in 2010, Midroll is the parent company of the Stitcher podcast network and platform and the Earwolf podcast network, and was named to Fast Company's most innovative companies in 2016. Midroll is a wholly owned subsidiary of The E.W. Scripps Company.

About NPR

With a 45-year tradition of audio excellence, NPR is at the forefront of podcasting, leading the industry with more than 16M monthly podcast listeners. Today, NPR continues to define the future of podcasting and audio with its expansive content delivery, growing listener base, industry-leading measurement tools and high-impact sponsorship. NPR's diverse mix of news and entertainment programming includes marquee shows – How I Built This, Planet Money, and Invisibilia– and innovative new programs – Up First, Embedded, and NPR's first kid's program Wow in the World all accessible across radio, NPR.org, NPR One, smart speakers, events and more. With NPR you get stories from everywhere and listen to them anywhere.

About Megaphone

Megaphone (formerly Panoply Media) is a full-service podcast company that delivers breakthrough technology for audio creators and advertisers, and produces compelling programs. Megaphone hosting and ad-insertion platform offers sophisticated publishing and monetization features unavailable anywhere else in the industry. Our best-in-class software and services power top networks and publishers, including HowStuffWorks, Gimlet, The Wall Street Journal, Buzzfeed and WBUR. In partnership with Nielsen, Megaphone Targeted Marketplace (MTM) enables advertisers to target more than 60,000 audience segments. Panoply's production studios offer premium content that includes shows such as Malcolm Gladwell's Revisionist History, Empire on Blood, Happier with Gretchen Rubin, The Message and By The Book.

About PodcastOne

PodcastOne produces 350+ episodes weekly, across a stable of hundreds of podcasts, and offers highly-targeted, customized and scalable campaigns to advertisers. From programmatic buying and host-read integration, to custom programming and event activation, the network's multi-platform approach provides a 360-degree solution to reach the medium's highly-engaged consumer, however and wherever they want – whether via mobile, desktop, in-person, or the industry's first interactive app. PodcastOne's line-up of influencers includes Adam Carolla, Shaquille O'Neal, Steve Austin, Kaitlyn Bristowe, Dan Patrick, A&E's Cold Case, Spencer and Heidi Pratt, Rob Riggle, Kim Zolciak, Jim Harbaugh, Ladygang, Dr. Drew, Penn Jillette, Rich Eisen and more.

About Public Media Marketing

PMM is an independent rep of some of the biggest and best podcasts in the industry. We have the privilege of representing This American Life, Serial and S-Town. We are the ones who put Malkimp in to Serial. In addition we represent Anna Faris is Unqualified, The Joe Rogan Experience, The Maximum Fun Podcast Network, The New York Times and many of the top comedy podcasts. PMM is dedicated to pairing the right sponsors with the right shows to deliver the very best results.

About Time Inc.

Time Inc. provides marketers with a unique offering that combines our breadth of brands; premium, trusted content; significant scale; and people-based data and targeting capabilities. We engage over 175 million adults, including 3 of every 4 millennials, and boast a social footprint that reaches more than 268 million fans and followers. With native and branded content solutions and digital audio and video initiatives – from podcasts to virtual reality programming – we have reinvented the way stories are told and the platforms they're told on.  At Time Inc., we see market disruption as an opportunity and we eagerly embrace the change.

About WNYC Studios

WNYC Studios is the acclaimed podcast studio behind beloved and innovative audio series like Radiolab, Nancy, Snap Judgment, On the Media, Death, Sex & Money, and Here's The Thing with Alec Baldwin.

Helmed by a diverse range of personalities, creative visionaries, award-winning journalists and innovative sound designers, WNYC Studios' programs include personal narratives, deep journalism, interviews that reveal, and smart entertainment as varied and intimate as the human voice itself.

WNYC Studios pushes the boundaries of sonic imagination with high quality storytelling that informs, inspires and delights millions of intellectually curious and highly engaged listeners across digital, mobile and broadcast platforms.

About Wondery

Wondery is a network of storytellers and love bringing a world of entertainment and a world of knowledge to you, wherever you listen.
Supporting Sponsors
About Turner

Cartoon Network's podcast joins the Turner Podcast Network alongside other high profile branded podcasts from CNN, Bleacher Report, TruTV, TNT, HLN and Adult Swim. The Turner Podcast Network was created to implement a portfolio-wide network that centralizes production, distribution and sales for all Turner podcasts in order to develop and launch new branded podcasts across Turner's news, kids and entertainment brands. Turner's podcasts reach an average monthly audience of over 10 million unique users and 17 million downloads.

About Westwood One

Everyone's listening to Westwood One, across local and network radio, streaming, and the rapidly growing Westwood One podcast network, where audio reigns supreme. Westwood One's diverse variety of original Sports, News/Talk, and Entertainment podcasts leverage the network's state-of-the-art production capabilities, iconic consumer brand name, national sales team, and stunningly massive promotional platform of 245 million listeners a week. Westwood One is where today's voices of America come to tell their story, make a connection, and be heard.

About WBUR

WBUR brings 60 years of audio storytelling experience to the world of podcasting with 10 signature shows and marquee partners including NPR, The New York Times, Reddit, The Washington Post and The Boston Globe. With more than 5 million monthly downloads, WBUR is the home for audience favorites including Modern Love: The Podcast, Dear Sugars, Endless Thread and On Point among others. WBUR podcasts attract listeners of all types from young women exploring relationships to parents seeking to engage with kids to highly educated NPR fans seeking news and information. Learn more at wbur.org/ilab or email [email protected].
VENUE
Time Inc.
Henry R. Luce Auditorium, 6th Floor
225 Liberty Street
New York, NY 10281